Memoir: Tracks of the Raven/Lizard
Memories and family histories are often neglected, and once gone without attention are gone forever. I often regret not having asked more questions of my mom and dad, and particularly my grandparents. But that is a common oversight of youth, being so involved with their own lives. It certainly was true of my youth. So, to whomever gets curious, and is willing to wade through these pages, here are some of the minutes, days, months, and years I can remember. I'm not a comfortable writer, but it's the best I could do. Hope you enjoy.
Nancy Raven
2012
Minden, Nevada
Family History … Mixed in with a few memories
My father and mother were married December 12, 1925. The wedding took place in the garden of Everett and Gertrude Messerly, Mom's parents, on Orange Street, Glendale, California. A little over two years later on January 15, l928, my older brother, Everett Richard was born on Sonora Street, and a little over a year later, on May 2, 1929, I was born at 1204 Cedar Street. The small stucco house was in a quiet neighborhood and the depression was just getting under way.
Dad had the interesting name of Omar Jean Wilson, and had been a farmer in the San Fernando Valley when he and Mom met, raising beans and alfalfa. He told the story of having to irrigate all day and all night, and how he would catch cat naps by taking off his work boots and putting his foot at the end of the furrow. While he lay there, the water would eventually trickle down to where his foot was and wake him up. Then he'd change the water to the next row, and repeat the process. Mom's sister Catherine also married a farmer in Canoga Park; Edward Martindale. My memories of their place on Shoup Avenue are of open country, lots of alfalfa farming, horses, and huge old walnut trees lining the roadway. Every fall we would glean the nuts near the road, picking them up still coated in their leathery husk until our fingers were stained black.
Mom soon got tired of living out in the country, having been raised in Glendale, and by the late 1920s had convinced Dad to move back to town. My dad, one of the more amazing men I have ever known, could do anything. (As a kid he and another 14-year-old pal had designed a small car … the Wilcar … combining their last names, that had an internal combustion engine and actually ran.) Back in Glendale, he used his ingenuity, opening a gas station at the corner of Brand Boulevard and Dryden Street, and named it "Omar's Gas Oasis." There were two repair bays with hoists, and the service included pumping leaded gasoline, checking the oil, and wiping the windshields. It was a slick affair, being on a corner, with lots of sunlight and palm trees. Dick and I loved being there, just hanging out. One of the best memories I have of the gas station was the time Dad let Dick and me put the airplane models we had made in a large front window. The window was on the south side of the station, with the sun pouring in all day, showing off the airplanes. Dad hung the models on a thin filament so it looked like they were actually flying. My favorite was a Mr. Mulligan biplane that I had made. Building the models was one of the special times Dick and I had as kids. Otherwise it was pretty much brother-sister stuff … some bickering and horseplay. Bill Marx was another reason I liked being at the station. He was one of Dad's helpers … a really good looking, sweet guy, and I had a bug crush on him. Yeah … a big crush at 12 years of age, but it lasted for years. It was a good time, being there with the streetcars still running up and down Brand Boulevard. That property is now covered with huge steel and glass financial buildings.
Mom had all us kids born at home, being a staunch Christian Scientist. No meds. Just good old Dr. Munger, who delivered Dick and me within 17 months of each other. Six years later the doctor was Dr. Bilon at our home then on Pacific Avenue. And just imagine, Dr. Bilon was still practicing years later and oversaw all the preliminaries in Glendale preceding Greg's, my first child's, birth. But more of that later.
On Cedar Street, one of my memories is that of a day I decided to run away. Doesn't everyone? I got as far as the corner when a neighbor spotted me and talked me out of it, herding me back home. Lot's of Dad's pals came and went of Sundays, crawling under their cars parked out on the street and doing repairs with the help of Dad's expertise. One couple in particular, Lorna and Jolly, were my favorites. Full of life, and in love, the afternoon fun was great to watch through a 5 year-old's eyes.
Mom would cook dinner … a Sunday dinner for whomever was around. Her favorite was leg of lamb, pierced mightily where stubs of garlic would be inserted, surrounded by Idaho spuds browning in the lamb fat. Yummy gravy, canned peas, and a wedge of iceberg lettuce swimming in Thousand Island dressing. Dick and I would always fight over the tail of the lamb, which was crisp and delicious and is something you never see these days. Other Sunday dinners consisted of rump roasts, a chicken, meatloaf, or a huge pot roast. The rest of the week reflected the leftovers from these dinners in the form of hash or stew. Although she hated to cook, Mom squeezed the most out of each meal, since we were still in the Depression.
Weekday breakfasts were always oatmeal made early for Dad's departure for work. By the time we kids came to breakfast, it had congealed into a tasteless, cold lump, and I still have trouble facing a bowl of oatmeal unless it's hot off the stove. Weekends were much more exciting. Saturday breakfast greeted us with scrambled eggs and cinnamon toast, and Sunday was really special with waffles and bacon The only other thing I remember about food at this age was the milk toast we got instead of any meds if we got sick, which was OK with me. I loved it!
Christmas time was always wonderful … and quite amazing. Dad would go out Christmas Eve and get a tree … usually for a song, since all the merchants were eager to close up and get home. Then, after Dick and I had gone to bed, Mom and Dad would decorate the tree and put all the presents out. We had a big stocking hanging on the end of our beds, and in the morning were told to enjoy the stocking before waking them up for the tree … and presents. Unbeknownst to us, Dad had worked for weeks either making presents from scratch or fixing up used toys for us. He would find an old trike, or Radio flyer, or scooter, sand them down and repaint them until they looked like new. There was one toy I'll never forget … called the Irish Mail. We sat on the seat with our feet in front on a crossbar that served as the steering device. Between the seat and the crossbar was a handle, which we would push back and forth that somehow created a forward motion. I have no idea where Dad got it, and I've never seen one since, but it was great fun.
In my second home, 1310 North Pacific Avenue, memories are more plentiful. I began to hear more stories about Mom and Dad. Mom grew up in Los Angeles and Glendale, where Everett "Cap" Messerly, her Dad, ran a successful laundry. A tall, handsome man, I think I heard he fell prey (and they to him) to other women. His wife, Gertrude (my precious Baba) stuck with him, probably because she was strictly a homemaker with three girls to raise. The girls, Catherine (aunt Kate), Elizabeth (Aunt Ibby), and Janice, my Mom, grew up in a large rambling two-story home on North Orange Street. After Cap, who was diabetic and alcoholic, died, Baba rented out the upper story and stayed financially comfortable, even though they lost everything in the crash of "29. Baba's family had come from the East where they were somehow connected with brick making. Maybe that explains my ongoing passion for bricks, red earth, and red clay. Baba's maiden name was Stumpf, and she had a brother named Victor, whom I only saw a couple of times. I have only a few memories of times with Baba when I was a child, but she played a major part in my life later on.
Dad's folks, Helena (Fuelling) and Herman Wilson, who were Nana and Grandaddy to us kids, had difficulties because of alcohol also. Grandaddy was a brilliant chemist in the leather-tanning field, but was unable to hold a job because of his drinking. Nana, a devoted Christian Scientist, may have driven him to drink with her pious ways. Having been raised in the South, she was very bigoted, and passed that on to Dad. Always full of Bible quotes and words of Mary Baker Eddy, she hoped to be viewed as an angel, while on the backside harbored a lot of hate. Mom always felt Nana was whispering negative thoughts to Dad in an effort to undermine his marriage. She had a sister, Sophie, whom I barely remember, and a brother Ed, whom I recall with warmth and humor. One time, especially, I remember driving out to Canoga Park from Glendale to visit him. Uncle Ed lived in a tiny house trailer and was profoundly deaf. A short, stocky man with thinning white hair, he was always cheerful and glad to see us. He told stories about his life of when he mined for gold in Cripple Creek, Colorado, been a cowboy and worked with the Buffalo Bill Cody show until he got too bunged up. From there he became a camp cook … an "old woman," as Utah Phillips calls in his song. As an old man he began building small rowboats, which boats, Dad said, would sink if they ever met water. But it was his hobby and gave a lonely old man something to do. He wrote a great collection of short stories about his cowboy days. One I especially remember was about a young boy on his first round up. When they circled the cattle, somehow he got squeezed into the center and was trampled to death. I think there's a song with the same theme, and I think of Uncle Ed every time I hear it, and I wonder if the person who wrote the song knew Uncle Ed, and who wrote it down first. There was one visit I'll never forget. We arrived at his trailer, and went inside. I usually sat on his lap, shouting in his ear, hoping he could hear me. After a while he said he had a treat for us. He reached into his cupboard and took out a package of cinnamon buns. As he opened the package, we could see that ants had already discovered them … He laughed, stepping over to the small trailer door, leaned out and tapped the buns on the side of the trailer, knocking off the ants. Chucking, he said "They don't eat much … there's still plenty for us." and put them on an old chipped plate on the small dining table. They tasted just fine, and it taught me a valuable lesson on survival. His deafness haunts me now as I begin my 80s, with my own hearing becoming more difficult all the time, making me wonder how much time I have left. I feel so grateful now having known Uncle Ed, and cherish the copies of the stories he gave me typed out on thin onionskin paper.
Other field trips I remember from the Pacific Avenue house was visiting Nana and Grandaddy in Redlands, where they lived on a small orange orchard. This place was Dad's last attempt to provide a home for his folks after Grandaddy's last job failure.
The trip was combined with a trip to a local cherry farm, one of those "pick it yourself" places. Dick and I managed to eat more than we picked. The Bing cherries, large, juicy and sweet were hard to resist. We picked some Royal Anns for canning, until we began to feel a bit squirrelly in the tummy from eating so many cherries. I don't remember much about the Redlands home, except that it always seemed dark to me. It was surrounded by almond and orange orchards, which were beautiful and fragrant in the Spring when everything was in bloom.
My Dad, had he had the opportunity, could have been anything he wanted. Not only had he and his pal built the "Wilcar" as a kid, but he drew amazing pictures of all the automobiles of his day. They were drawn on cheap newsprint tablets, that being all he had, and they are exquisite in every detail. He loved drawing trains, cowboys, comic strips, and anything else that caught his fancy. They were mostly in pencil, with a little color added. As a young man, he missed being enlisted for WW1 by a few months, went to Ann Arbor for a year, then had to quit to take care of his folks. His varied careers consisted of farming in the San Fernando valley, then opening the gas station, which gave him the opportunity to get his hands back into engines and mechanics. Then the move to Vista, in San Diego County, where he returned to farming. This time it was avocados and lemons. Adding 2,000 laying hens to the ranch gave us all a new lifestyle, and little did we know that "free range" chickens would become the most acceptable way to raise poultry.
The Pacific Avenue house had a large yard with a driveway that stretched from the street to the garage, which sat at the back of the property. I seem to remember a bramble patch between the driveway and the fence, and an old Willys Knight truck, painted silver, which sat there for years on sagging tires. I think Dad finally breathed some life back into it for Dick's first car. In the summertime we had a vegetable garden in the back yard, and I'll never forget the taste of the tomatoes. One summer I sliced one of those tomatoes in half and it revealed a perfect German cross. I ran to Dad, all excited, to show him. He wasn't impressed, saying it happened all the time. In all my 80 some years, I've never seen another.
The front yard was surrounded by a huge passion fruit vine, which enveloped the fence. It bore buckets of fruit every year, and it's where I developed my love of its tangy taste, and crunchy seeds. I can still hear the sound of Sunday mornings, with Dad mowing the lawn with his hand-pushed mower, and the smell of fresh cut grass. On the fourth of July, Dad's birthday, we would be awakened early by cherry bombs lit off under our bedroom windows. He LOVED his birthday, feeling that he was an original firecracker. Born in 1900 on this special day made him feel the tradition and responsibility of observing it with a lot of noise.
As to what we were reading those days, the folks always subscribed to the "Highlights" magazine, and the Christian Science Monitor was always available with its children's corner. Dad always made sure he read the Sunday funnies to us, and occasionally we would curl up with him to hear his read from his own childhood books by Frank Baum. There was the "Wizard of Oz" series, which we loved, and which he enjoyed reading them, with memories of his own childhood.
Two of Dad's favorite expressions were "ignatz" when talking about someone he thought was stupid, and "swanky" for elegance. I realize that as I type this account, I'm typing my Dad's name a lot more that Mom's. But it's a fact … Mom didn't really want to be a Mom, and had very little to do with us. I'm sure we were loved as kids, but I don't remember ever being told that we were, or being hugged. Dad did so much more with us in the way of human contact than Mom, who really wished she could be out of the house, working as a secretary somewhere. In fact … those feelings carried over to her grandkids as well. She never wanted to babysit, and much later, was of no help when my life became so difficult with Jenny's illness.
When the Martindales came from Canoga Park to visit we kids would construct huge cardboard flats, painting them like buildings of the old West, and acted out shoot-em-up dramas, which Uncle Ed would photograph with an archaic movie camera.
This was also the house at where I learned to roller skate. Pacific Avenue had long, wide sidewalks for us to practice on, and where I earned a few skinned knees. Another favorite pastime for me when I was alone was exploring the vacant lot next door. I remember sitting there for long minutes, in the wild grass, watching bugs and birds, and sometimes bringing toy cars and making small towns with roads and building with the debris vacant lots tend to collect.
Then, on April 12, 1935, with the help of Dr. Bilon, Mom had another son … Victor Louis Wilson.
Her favorite nurse, Mrs. Taylor came again to help out, just as she had done with Dick and me. We called her "Tadoo" and she was part of our lives for many years with the babies. She was replaced as we got older by a housekeeper named Margo, a beautiful but aloof woman who never interacted with us at all. She lived in a small bedroom upstairs in a room off limits to us kids, and must have traded housework for room and board, since I can't believe that Dad could pay a housekeeper.
There was another small room in back, off to the side, that Dick and I could use for crafts. This is where we built the airplane models that hung in Omar's Gas Oasis, window. The kitchen was in the back NE corner, with a back porch leading from it to the back yard, and where the Maytag washer lived. My bedroom faced south, and had a good-sized closet which had room for a tiny desk. I spent hours copying and making up cartoons there. It was my secret place where I could be out of sight … and out of mind.
I loved dolls, and one that I especially cherished was a beautiful McGuffy Anne. The other favorites that I actually played with were the Dionne Quintuplet dolls. Yes, all five, and I'd give a lot to have them today. They must have gotten lost during one of our many moves, for after Pacific Avenue, I never saw them again. I also had a Shirley Temple doll that had some changes of clothes. Mom, an avid knitter, made some darling little dresses for her. My friend, Sara White, and I would play dolls a lot whenever we got together. She would bring her dolls, along with dozens of outfits for them. I was so envious, and would beg her to share some of them with me. Sara was the daughter of Louise White, one of Mom's best pals from school, and Louise was the daughter of L.A. White who owned the largest toy store in the area. This gave Sara access to anything she wanted. Visiting the toy store, which we did as a gift from the Whites every Easter, was like walking into Heaven. As I remember it, it was like a huge warehouse, with shelves and shelves of toys. Toys hanging from the walls and ceiling, toys stacked on the floor, toys, toys, toys. We were allowed to choose something to take home, (there must have been a price limit), making it kind of a dream day that came true. Louise, who was a single Mom when I first knew her, eventually married Hansen Puthuff, an extraordinary Southern California artist. I have two small oils of his, which I love. His style was fresh and crisp, and still looks very modern.
A little more about the house on Pacific Avenue. Inside the front door was a wide hallway, which housed the piano. I took lessons for six years (beginning at age 6) from Mrs. Madiris, a strict woman who insisted I keep my fingers curved while playing as though I was opening a door. She put pennies on the back of my hands as I played in an effort to make me keep my hands in the right position. I was supposed to practice an hour every day … and I probably did. Now I can barely play the songs I learned then, but I still enjoy trying. On a rare evening, Mom would sit and play some songs she had learned as a young woman. They were always the same two or three songs, but I loved hearing her play.
As you stepped into this small reception room, you were met by the eyes of a statue of a woman who stood immediately inside the front door, holding a tray. We called her "The Lady," for she was lovely, and probably belonged to Baba at one time. She was of an era when visitors left their calling cards on the tray when they called. Dressed in a beautiful Arabic costume, she had a turban wrapped around her head, and beads dangling from her neck and wrists. She had a sweet, young face with a slight smile, and I feel I could almost draw the way she looked even now. From the front hall you stepped into the living room, which had a fireplace and was quite roomy. My most vivid memories of it were of Mom's bridge afternoons, when it was filled with card tables and chairs for her friends. Between the living room and kitchen was a formal dining room, which had a sun porch off one side. It was in this sunroom that Mom raised her canaries. She would sell them as warblers, and it was my job to feed and water them, clean the cages, (putting down clean newspaper in the bottom every day) and teaching them to sing. (!!) There was this little tune, maybe "The Little Shepherd Boy," or some-thing like it, I had to whistle as I worked in the sunroom, and supposedly, the birds would learn to sing from hearing it. They did sing, and beautifully, but I doubt it had anything to do with my whistling. It sure taught me how to whistle, though, and I still enjoy puckering up and making a tune. I have no recollection of where Dick or baby Vic slept in this house.
Summers of our early childhood were spiced up with forays to Balboa, where Baba had a wonderful old beach house. It faced right onto the bay, and was always a Messerly sister gathering place, with all the kids. Aunt Kate, with Myrna, Dale and John, Aunt Ibby with Joan, and Mom with Dick, me and Vic … and Tadoo, of course, to help with all the kids. We all converged at the beach while the husbands stayed home to work. Uncle Ed Martindale, Uncle Reynolds Ross, and Dad came on weekends, making a wonderful houseful. Of course Baba was there too, which made it all the more special. The only one missing was Bobby, Joan's young brother who was born with Down Syndrome, and didn't live at home.
Baba's beach house was an old two-story affair with most of the living and bedroom areas downstairs. The upstairs was a huge loft, with windows opening out onto the bay, and became a dormitory for all us kids. I still remember the wonderful salty smell of that room, and the sound in the early morning of the old fishing boats going out before dawn, with their 2 cylinder diesel engines singing ka-thunk, ka-thunk, ka-thunk. Before breakfast, Aunt Ibby kept a strict regime of staking out our portions of the beach on the bay side of the sidewalk, which was public. Blankets, umbrellas, back rests, and a baby playpen all arranged so that as the day warmed up we would have our spot. It was quite a sight. The moms packed lunches, snacks, shovels and pails, and we spent the entire day out on the beach. Needless to say there were some burned little bodies the first couple of days. Until we learned to swim we wore life jackets until our underarms were raw. The jackets were stiff canvas filled with kapok, and we learned to swim so that we didn't have to wear them. After the beach, showers and baths were carefully arranged, since Baba's hot water system consisted of a ganglia of galvanized pipes behind the stove, making hot water precious.
The Balboa house was walking distance to the Fun Zone … a marvelous place with a merry-go-round, Ferris wheel, salt water taffy and bump-um cars. One tiny store run by a Japanese man sold grab bags for a nickel with unknown treasure inside, seashells, and a million other trinkets. We made sure we got to go there every day. Sometimes it would include a bite out at one of the many little cafes. Sadly, years later, Baba sold the beach house after a squabble with the neighbors, the Rabbit family, (who actually named one of their sons Peter!). We then stayed at a nearby place called the Grey Goose, which was OK, but not nearly as wonderful as Baba's. At times the tide would be just right for a grunion run … when we'd all go to the oceanfront and scoop up dozens of the shiny little fish which Mom would fry to a sizzling, golden, crunchy treat. I think we at them whole.
Johnny Weismuller vacationed in one of the small hotels nearby the Fun Zone and I actually swam with him one day. He was nice and friendly … and so handsome! He swam so beautifully, and taught me how to squirt water from my fists … like milking a cow, only backwards. Another god-like creature (I am now 9 or 10) who lived on that beachfront and ran a surfboard concession was Duke. The blond, blue-eyed, bronze-bodied man and his girlfriend Mazie were there every day. Mazie was a hard looking blue-eyed redhead with a perpetual sunburn and a heart of gold. Many years later I visited the Fun Zone, which was still there, and probably still is today. Much had been modernized, and murals had been painted on some of the buildings, giving it a more glamorous look. A few landmarks remained … the three car ferry to Balboa Island and the
Pavilion. The ferry cost 5 cents to walk on, and 25 cents for a car, and stayed that price for years. On my visit there a few years ago, one of the original bump-um cars was on display out on the sidewalk in a cage. Well rusted, with chipped paint, it looked bruised and sad.
Other family get-togethers while still in Glendale were the many trips we made to the Martindales in the San Fernando Valley. Mom's sister Kate and her husband Edward had stayed out in the country, in Canoga Park, or Owensmouth as we called it then. Their rambling ranch house was surrounded by farms and the walnut trees I mentioned earlier. They also had a tennis court, (punctuated with weeds). Us kids would play cowboys and Indians, coming in from the hot afternoon for a bottle of Aunt Kate's homemade root beer. She bottled it in empty catsup bottles, and it would occasionally explode in the cellar, making terrible mess, but we thought it hilarious. We always went home with bags of fresh produce from their garden, which was better by far than the produce Mom would buy from old Tony, the man whose vegetable truck came by the house once a week.
During this time in Glendale, Dad bought a small young avocado grove in Vista, San Diego County. There was a small frame house, which I don't remember the inside of at all, and a rutted adobe driveway leading up the hill from the road. I think Dad was really farmer at heart and hoped to get back to the country. We would make the long trek on weekends from Glendale to water the trees, hoe weeds, etc. About all I remember is loving the warm red earth which revealed trap-door spiders, seeing my first horned lizard (which is still my favorite), and learning the difference between gopher and rattle snakes. Of course, it was the beginning of a long acquaintance with shovels and hoes, a relationship I have enjoyed for years. Mom hated those weekends. The cabin was too primitive for her with its wood stove and no electricity.
But I think Dad had had enough of the gas station. We eventually found a real home on another hill in Vista, with acres of mature avocados and lemons. He sold the small orchard and the Pacific Avenue house, and we became permanent residents of San Diego County. I was just entering the 7th grade at Vista High.
I should mention a couple of the other summer excursions our family took before leaving Glendale. One year Dad bought a brand new Pontiac … a sleek olive green sedan. In those days the engines in new cars needed to be broken in, so he and Mom planned a trip to Washington State to visit an old pal, Gaston Ganahl, who had built a wonderful wooden cabin for guests. The trip up the Oregon coast was special … with Dad buying a gunny sack of oysters in Yachats and shucking them our for dinner. It was late afternoon when we arrived, with a minus tide. I'll never forget walking out on the riverbed to watch the sunset. I'd never eaten raw oysters before, and had never seen such a long stretch of wet sand reflecting the vibrant colors in the sky, making it the end of a perfect day.
We stayed in small motels along the way, and the only mishap was Vic's forgetting his "goy-goy" … the old worn blanket he sucked on every night before going to sleep. He was still very young, and the blanket was a big deal. By the time we realized it was missing we were too far along to go back for it. Lot of tears!! Another time it was his much beloved, beat-up, chewed on bunny. Oh my. But we had a marvelous time in Washington in the darling little cabin. There were rumors of a wild pig in the woods nearby, which was thrilling for a couple of city kids to think about, and any small rustle of leaves caused many quick "escapes" back to the house from where we had been playing in the forest.
Another summer we went to Yosemite and stayed at Camp Curry, in one of the tent cabins on the Merced River. I loved the smell of the tent when the sun hit it in the morning. There was a small cook stove inside where Mom made our meals. The river water was snowmelt, and freezing cold, but that didn't keep us kids out. Dick and I went in one afternoon to cool off and play. The river was channeled by ridges of slippery, slimy rock, and as I tried to negotiate my way across I lost my balance and went tumbling down in the swift water. I was scared stiff and started yelling for help. Dad came running to the water's edge, ripping off his shirt … buttons a-flying, jumping in to save me. I don't know if he even took off his boots. As we exited the river, my memory is of what seemed like hundreds of people, attracted by my screams, gathered on both sides of the bank to see what the ruckus was all about. I was SO embarrassed!
We probably took some hikes that week, but what I really remember is meeting an old Indian woman named "Taboose" and her companion, "Chief Lemee." They talked about their people and sold Indian dolls, told stories and danced for us. Then, at night was the incredible "Fire fall." A large fire was built at the top of a very high cliff near the campground. At a certain time, the fire and coals would be pushed over the edge, making a red fire-fall down the cliff. Just then, this strong male voice would begin singing the Indian Love Call … "When I'm calling you … oooo … oooo … Will you answer too oooo … oooo …" You can imagine the effect on the audience … most of us city slickers. Now that I know more about Ansel Adams, I think his shop may have been there then. But we were not aware of him and it wasn't until much later when I heard Maya Miller talk of working there in his store that I realize he may have been there also. Maya's dad, Paul Paine, knew and hiked with Ansel during the early years at Yosemite, as did Al Weber, who will appear later in this story.
One activity Mom really got involved with that included me was working with the Girl Scouts. I began as a Brownie, and Mom became best friends with the leader, "Brown Owl" … Ann Kelly. We would go on trips together … the two women, me, and Ann's daughter who was a few years older than me. We stayed at the luxurious Laguna Beach Hotel one time, which meant that Ann was probably paying for it. Then I "flew up" to the Girl Scout level, and got to go to Girl Scout camp in the mountains with all my school friends who were also in the troop. I loved it … waking up and gong to bed with the sound of a bugle, and enjoying crafts and horseback rides during the day. I also remember KP duty … peeling a bucket of potatoes for dinner. Another summer I joined the Blue Birds so that I could go to their camp on Catalina Island. We rode the big ocean liner to the Island, then took a bus to the camp. During the week we got to ride on the glass-bottom boat, seeing beautiful fish underneath, and visited the Pavilion, which looked like a castle to me.
The year we moved to Vista was 1941 … the year Japan bombed Pearl Harbor, and the war for us began. The home we found was lovely … up on Warmlands Avenue, and had gorgeous white-barked eucalyptus trees in the front yard that shed its skin every year, exposing the new silky trunk. The ranch was about 8-10 acres with full-grown trees that were already producing. I was in the 7th grade and entered Vista Junior High. It was in the same buildings as the high school, so it was really grades 7-12. We were such small fries, but I loved it because it was really like being in high school. Jackie Smith and I became good pals, and both were both eager to learn to play tennis. We'd grab our rackets at lunchtime, and played almost every day, munching on a bite of sandwich between games. I really fell in love with the game, and played for many years after. I liked all my teachers, especially Mrs. Fortner who taught art. Of course Dick had preceded me in this class, and had a lot of talent, so I was following in his footsteps, totally enjoying learning about drawing and painting. One of my other favorite subjects was physics, taught by Mr. Steward. My pal Muriel McFarland and I had a terrible crush on him. He looked like Michael Kitchen, the English actor. Chemistry was another matter. I hated it, since I couldn't make heads or tails out of the positives and negatives, or the valences.
In English class Muriel and I did a two-person report about the South. I remember relying heavily on her word talent and I did the illustrations. She wrote a beautiful paragraph on Georgia peaches … something I knew nothing about. Last year I tracked her down on my computer, and found a book she wrote called "The Complete Idiot's Guide to Wellness." Sounds like Muriel.
Jackie, Muriel and I were never in the "beautiful blond" set. My platinum blond hair didn't automatically make me a member. We were Outsiders … and didn't hang around the guys. (Who plays tennis during lunch? … duh.) The Insiders were always nice to me though. We weren't enemies. Donna Dysart, Billie Jean Hattridge, and Jeanie Coulter were in the saddle shoe, bobby sox, pleated skirt/cashmere sweater group all their own. I liked them, but I knew we were on a different plane, somehow. Probably an income thing, with Dad driving a school bus at the time for extra money, looking most of the time like the farmer he was. Not only that, but Mom was working in the office as a secretary for the Superintendent of Schools, Mr. … Freeman. (yes, she finally got that job she'd always wanted). I'm sure all that put us kids in a certain class level. Dick played football, and got pretty good grades, excelling in art. He was also editor of the yearbook for at least one year. Vic was six years behind me, so I can't comment on his school experience.
Then there were the Johnson brothers, Roy and Ted. They were Dick's pals, and Roy had a terrible crush on me. He was tall and sweet, and kind of dopey, but it was fun being included on dates with the gang. Another set of brothers, Gene and Stanley Foresman, were also in our gang. Stanley, dark and handsome, played amazing piano … Pine Tops Boogie, plus classical music. Gene, a blond, was the tall silent type and I had a crush on him. My major crush, however, was Jerry Armstrong, who lived not far away and had a swimming pool. Jerry was so darn cute with a great body, which he could show off when we went swimming at his place. Of course he had girls swarming all over him, and never looked sideways at me, but I still loved the pool parties at his place.
The years living in Vista opened a whole new world of work for us kids. Dad fenced the avocado orchard, built a huge chicken roost with laying nests on one side, and then ordered 2,000 sexed baby chicks. Leghorns … a productive laying breed. He ordered some large brooders, hooded contraptions, which kept the baby chicks cozy and warm. They all had to be vaccinated for coccidiosis when they arrived, then placed in the brooder. Charlie Parsons was the man that helped with this endless project. (He would come later, too, when the hens were needing another vaccination, saying, after we had finally brought him the 2000th hen … "This is the one I've been looking for!" )
I remember those chicks growing into pullets, then finding the small eggs they laid at first. Gradually they were moved to the orchard where they could roam and have the run of the land, now fenced. At night they came back to the roost, which was sheltered by a tin roof. During the day they came to the nests to lay their eggs, which was just fine most of the time. But when rain or irrigation made the ground muddy, a lot of that dirt got tracked into the nest and onto the eggs. Guess who got to clean them? … Yep … Dick and I, and later on, Vic. Every afternoon after school we came home to large metal wire baskets full of eggs. Dad had rigged a buffing machine … a small motor with two axles, one on each side, which held a wire wheel that spun at a very high speed. Dick sat on one side, and I on the other. We sat in chairs, with a large egg crate between us. Holding the eggs gently against the spinning wheel knocked off any dirt, which was the only way we were allowed to clean them, since washing removed the protective oil on the shell. Sometimes the egg had a small crack, which the wire wheel would catch, sending the egg juices a-flying. We'd scrape the goo off the counter as best we could into a coffee can (which acquired a certain odor after a while), and go on with our work. Dad thoughtfully installed a small radio in the garage where we worked so that at least we had something to listen to besides the endless motor and eggs exploding. We did this until dinnertime, and it's a wonder that I can even look at an egg or a chicken, but I can. Sadly, there was no staying after school for sports or clubs. We came home to clean eggs. We ate a lot of chicken, too. Once in a while there would be a "blow-out" … when a hen lost control of her egg duct. Chickens can be carnivorous, and attack one another if they see blood. Those poor girls got to be dinner if we caught it in time.
My escape from all this came on Saturday mornings, after breakfast, when I would walk down to the school courts and meet Jackie for a morning of tennis. It was about two miles away, but I didn't mind. At least I wasn't cleaning eggs. Other chores included picking avocados and lemons when the fruit was ready. We managed to pick most of the avocados ourselves, but Dad eventually hired a crew to pick the lemons. They were thorny and nasty to pick. I remember many times, Dick and I picking avocados in those large shady trees and thinking we had all the fruit. Then, ducking out from under the tree, a large avo would hit me right on the head. The leaves and fruit were so much the same color and shape it was hard to see them. The early orchards all had Fuertes, which were smooth to the touch and tasty, but difficult to ship because of their delicate skins. They have now been replaced with the Haas. Another favorite in the old days was the Nabal … the size and shape of grapefruit, which also went out of favor. We were never paid an allowance for the work we did, but Dad fixed up an old car for Dick, and surprised me one day with a horse. Her name was Tay. She was small in stature, and half Arab. She had supposedly been owned by Robert Taylor … hence the name. Unfortunately, she had been bit by some vehicle, and had a great fear of cars and trucks. Riding her along the road to get to a trail somewhere was daunting for me, being a first-time horse owner. She would shy and jump sideways, then bolt off down the road. I finally had to give up on her, since it was no fun, and dangerous.
We also had a cow on Warmlands. Daisy June. Dad built a small corral connected to a covered shed that gave her shelter from sun and rain. It had a stanchion for milking time, and it was my job to milk her in the morning before school. She was a Guernsey and gave lots of milk. She was so nice and warm when I would lean into her belly while milking. Our cat always followed me to the barn to get a squirt of milk now and then. I had a one-legged stool to sit on, and held the bucket between my legs, in case Daisy June lifted a hind foot during the milking. We cooled the milk in the fridge in wide enamel bowls. When the cream had risen and hardened, we skimmed it off and made butter. Mom sold the excess milk to neighbors since we couldn't use it all. Mr. Raab, a sweet old Dutchman who lived down the road came every evening to milk, and we traded him a bucket of milk for his help.
Dad would get Daisy June bred every year. When a cow drops a calf, it's referred to as "coming fresh." There was always a lot of milk at this time, and soon the calf had to be weaned and taught to drink from a bucket instead of nursing. This became my job, and it went like this: we would milk a couple of inches of milk into a bucket, and I put my hand down in the milk … with one finger poking up, but still mostly in the nice warm liquid. The calf would suck on my finger and get just enough milk that it eventually learned to drink by itself. Another adventure with Daisy June happened one day when Dad asked me to take her out and tether her in the orchard to munch on the grass. All was going well until DJ suddenly felt frisky and decided to chase me instead of being led. Up a tree I went, and hollered for Dad to come rescue me. She had never been dehorned, and I wasn't about to play games with her.
Occasionally on a Sunday we would go out to lunch after church … a small Christian Science church where I played an old pump organ for the hymns. We had a favorite little spot … called the Melody Cafe. I remember so vividly being there on the day they announced that the first A bomb was to be tested above ground. I was so afraid the earth was going to crack open I could hardly eat my lunch.
I must have been around 13 or 14 by this time, and Mom began my household training. She hated housework and taught me to cook, do the washing, (we had an nice old Maytag wringer washer), how to clean house and iron. Each day had its own routine. Sunday was a big cooking day, making enough food so there were leftovers for the week. Monday was ironing day, Tuesday, Wednesday and Thursday house cleaning, Friday changing bed linens, and Saturday laundry. The old Maytag was on the back porch adjacent to two cement sanitary washbasins. First in were the whites, next went the light colors, next load was dark colors, saving the dirty work clothes for the last. The same wash water worked all the loads, with two rinses in the sanitary tubs. The wringer swung around to do the job in between rinses. It was a long and tedious job, but somehow I didn't mind it. It was a challenge to work the wringer without stalling it on too big a piece of clothing. Everything got hung outside on the line to dry. The Friday linen changing days were always interesting too, as Mom used that time to share her sex education with me as we changed the beds. "Sex is no fun for the woman," "If you fool around you'll end up pregnant," and "Some men want it every night, which is tiresome."
No comment.
After a few years on the Warmlands farm we moved to another beautiful house with an avocado orchard nearer town. Maybe all the work was getting to Dad, and I was not sorry to leave the chickens behind. There were still avocados to pick, and housework to do, but not nearly as much. This was great since I was now a sophomore in high school and loved having more social time with my friends. The house had a huge sweeping porch surrounding the entire front room, which was perfect for teen parties. We cooked waffles, Stan Foresman would bang out boogie-woogie on the piano, and we would dance to the 78 rpm records with the music of Tommy and Jimmy Dorsey, Glenn Miller and Harry James. It was great fun.
About this time Dad found me another horse. After the sad experience with Tay, Terry, the new filly, seemed like a dream. She was a beautiful blood bay, 3/4 Arab, and with such a smooth gate I ended up riding her bareback most of the time. I can't forget the day Dad taught me how to get on a horse bareback. "Just jump as high as you can, and pull your belly onto her back … then swing your leg over!" Easier said than done at first. He was standing beside me, holding Terry's bridle, and I jumped. Not quite high enough, … so he gave me a shove. Too hard, it seems, as I went all the way over, landing on the other side. I eventually got the hang of it, and could get on my myself, but it was always a challenge. Dad built a small corral at the bottom of the grove for Terry, with a shed for shelter and storing hay. We fed her mostly oat hay, as alfalfa alone was thought to be too "hot" for horses.
Next door to this new home lived a funny old retired postman. He had a pool table in his garage, and offered to teach me how to play. I think Dick went over a few times, but I used my spare time to go horseback riding.
We now lived so close to town we could walk to school, which was great. I loved most of my classes. My Spanish teacher, Senorita Solomon, was a dark-eyed woman who spoke Castilian. I had her for 3 years, and she was also the faculty advisor for the CSF (Calif. Scholarship Federation) club. I got good enough grades to belong, which made me eligible for their "ditch days." On these days we would be taken to some special place. Once we went to; San Diego and visited the old Tall Ship, "Star of India," and I think it is still moored there at the Maritime Museum. Another time we went to Tijuana for the day and visited a high school there. The kids gave us a tour, and it was obvious that it was a poor school. I remember playing a game of volleyball with them on a sad dirt court and a beat up net. Clell McElroy is the only other CSF kid whose name I remember. A tall, gangly kid, but so brainy … and with a good sense of humor. Other high school teachers were Mr. Ringland, who taught English, and had developed an old fashioned, elaborate handwriting style that he used if you wanted him to write your name in the front of your yearbook to identify it. Coach Williamson, a big overweight man, taught math, and of course my favorite, Ms. Fortner, taught art. I flunked typing purposely to avoid ever having to do secretarial work.
I had just finished my junior year in high school when Dad decided to move us to Balboa. His old buddy, Bill Marx and he had invested in a cute old motel … the Bay View Court. I never knew the particulars of the deal, but Bill was now married (sob) and living in Gardena. Somehow he talked Dad into leaving Vista to be the manager. Bay View Court was a gathering of small stucco cottages, separate from each other, joined by little garden pathways. They were located right on Newport Blvd., and were kept spotless by the cleaning lady who, with her husband, lived in one of the cottages. Olive Denghausen was her name, and I helped her out occasionally when she needed it. And could she clean! She taught me how to make things really shine. Not only that, but she was a great cook, and showed me how to make a great sweet bread for Christmas and fancy breakfasts. Her husband, Caas, ran a fishing boat, and I think Bill fell in love with the idea, as soon he had one too, calling it the "Say When." He still lived in Gardena with his wife, but would come down on weekends to take fishing parties out on his boat. And even though he was married, I still got a thrill each time I saw him.
Although there were lots of good new exciting friends in my life, it was a terrible year at school. As a senior, I had lost contact with all the good friends I had been in school with for years, and had to spend this last year in a new school, feeling like a country bumpkin. The kids at Newport Harbor High were all upper class kids, with swell clothes, and new ways of talking. I never felt like I fit in. The classes were all much more difficult than they had been in Vista. For instance, in English, our textbook was TIME magazine, which we read each week from cover to cover, for discussion. Shakespeare was also studied. I was a fish out of water. I even tried out for the swimming team, but could never quite manage a racing dive. The stars of the team were a gorgeous blond named Sarah, and her boyfriend, Freddie. I don't remember a single date during my senior year. If I felt a little like an outsider at Vista, I was really an outsider at Newport. I did manage to make some close girlfriends, who were a lot like me, and actually were more interesting than the popular girls. But boys were not part of the equation. Fortunately, Dad had brought Terry up from Vista, and we found a place to corral her near the high school. I took out my sadness and feelings of being lost by visiting her and riding as much as possible. I also began playing tennis at every opportunity, and made the team.
We were soon living in a house Dad built at the tip of the Balboa Peninsula, and it was here I met the friends that made this new place more endurable. The men on the Coast Guard boat, moored in front of our house were seemingly gruff, but had hearts of gold. They befriended us immediately, and felt like real neighbors. Then good old Bob Dorris, "Zeke," not really old, but older than I, who was a neighbor living with his folks. He loved sailing, and had designed beautiful hulls for racing boats based on complicated formulas he had worked out. He and his best pal Al French had fishing boats. Al's was named the "Langosta," and Bob called his "Watatomata." Bob and I went on many dates with him and his wife Margaret. He was great fun, and would burst into song as we drove along to wherever we were going. He had a wonderful voice, and a quiet sweet sense of humor that I loved. Another friend he crewed for was Humphrey Bogart, an avid sailor too. His small lovely yacht was the "Santana," which we visited a couple of times. This was shortly after he and Bacall had gotten together and had some kids. Lauren didn't like having the babies on the boat, and I never saw her there. One time he told us of a film "To Have and Have Not" he was making with Gloria Graham. His final comment about it was, "If she wasn't in a relationship and I wasn't married, we would have gotten together." Zeke and I stayed friends for years, but there was never any romance between us. We loved surfing together out off the Point … a very dangerous place to body surf, and visiting his friends. Bob always moved in a very slow deliberate manner, and was followed everywhere by his faithful Black Lab, Molly. This characteristic infuriated his eventual wife, an intense French woman. Luckily, the two kids they had, particularly his daughter, Pieriette, stayed very loyal to Bob in later years as he struggled with Alzheimer's.
It was during these years at the beach that both Dick and Vic became lifeguards. They worked off Newport Beach, and maybe Balboa, but I never heard of any daring rescues they may have made. They will have to tell you their stories themselves.
One other "boyfriend" was a cop I dated for a while … Bob Stockdale … who taught me to see in the dark by looking beside the object I was trying to see rather than directly at it.
So, other than the disappointments at school, age 18 was a good one. Surfing with Zeke, riding Terry, and swimming in the Balboa Bay. I actually challenged myself one year to swim across the bay and back every day for the entire year. Somehow I did it, alone, and survived. It was a stupid thing to do, since there were so many boats going in and out of the jetty opening, right where I was swimming. The days of winter really tested my resolve … but I always pushed myself into that frigid water. It's a wonder why Mom or Dad never questioned this event. They never told me not to go, or that it could be dangerous.
Somehow, while we were living on the "Point," as the tip of the peninsula is called, Baba invented the surfing pillowslip. She had the idea that sewing up a twin bed sheet, coupled over lengthwise, leaving one end open, would make a great surfing toy. And it was. All you had to do was get the cloth wet, crook your elbow in the open end, and twirl around a few times. The wet cloth held the air, and soon you had a giant airbag you could lay on and catch waves. The open end had be held shut to keep the air in, but it was so buoyant you could catch the smallest of waves. It was impossible to get hurt. No hard edges to smack you in the face if you got turned over. Also a great crowd pleaser, with everyone on the beach watching and wondering what the heck that weird thing was. Many years later, when I lived in Monterey, the pillowslips were a big hit with all my guests. Nobody could figure out why they worked so well. Just water in the cloth, that was the secret … but how did Baba figure that out?
During these years Dad had been building houses and doing remodels. It was in the attic of one of these jobs that he found an old pear-shaped guitar. Since I had been messing around with a ukulele, he thought I might like it, and bargained with the owner for it. Turns out it's a Lyon and Healy, made in Chicago. L. and H. were connected with Washburn guitars, and I played it for a few years until I started taking lessons and my teacher convinced me that I needed a better guitar. But back to Dad. He was hired by the city of Costa Mesa as a Right of Way Engineer. From farming overalls and carpenter's apron to a suit and tie. He was quite the man, and enjoyed his new work immensely. It brought him into contact with a lot of different situations … helping to arbitrate settlements between landowners and the city. He also enlarged the Point house so that I finally had a real bedroom instead of a closet to live in. This also made the house more rentable for summers, when we always had to move to the old duplex in Balboa, making way for the summer occupants. It was such a drag … but we needed the income, so there was never any argument. One nice thing about the duplex was that it was close to downtown, which was fun. My cousin John Martindale fell in love with fishing, and moved to the beach. It was he who got me into playing the ukulele, my first stringed instrument, and did a hilarious imitation of a tourist trying to bait a hook with a tiny live fish. I loved Johnny … he was my favorite cousin.
Just about then, the rage for Pizza hit the country. I made it one night for dinner just to try it, and Mom loved it so much I ended up making it for all her dinner parties and canasta afternoons. Yikes.
Before he got his own fishing boat, Bill Marx would come visit us in Balboa. He and Mom and Dad often sat up late talking downstairs. I would hide at the top of the stairs to hear all the conversation. I was still in love with him, and had been since Omar's Gas Oasis days. He was now unhappily married to a woman named Audrey, so I was riveted on what turns his life might take.
As for my real life, it was soon graduation time from high school. I had to decide what I was going to do. I wanted to go to UC Davis, which was still strictly a vet and agricultural college, and learn about raising horses. Arabians, of course. The folks said absolutely not. Too expensive and not practical. They suggested secretarial school so I could always get a job! If I wanted to go to Davis I had to do it without any help from them. So right after graduation I got a job at Pac Bell telephone. The office was practically next door to the duplex. In those days we were still saying "number please" … and plugging wires into sockets. I loved it when I got a long distance request, and had to go through complicated routings. I also worked on information a few times, and really learned my alphabet. After a few months I was able to request a split shift, working from 9-1 and 5-9. This gave me 4 hours free in the middle of the afternoon. I rode my bike, an old Raleigh 3 speed job, to work. At 1pm I'd ride up the hill to Costa Mesa (about 5 miles) to where Terry was corralled. I'd hop on her bareback and ride like mad to wonderful open land that used to be the Santa Ana Army Airbase. Terry ran like the wind, with her head and black tail held high. She was so surefooted I never worried about her stumbling. It was totally insane, riding so fast bareback, but Terry never betrayed me by shying or making sudden moves that might throw me. I'd ride for an hour, enjoying the Back Bay's emptiness at that time. Such a contrast to the telephone company. Back at the corral, I'd give Terry a good brushing, some hay, check her water, then hop on my bike to ride the 5 miles back to work. I can't remember when I ate anything, but I must have packed a sandwich along the way. I loved this schedule!
Sometimes in the summer when living in the duplex we'd walk to the fun zone at night and re-live the days when we were there at Baba's, or the Grey Goose. The guy that ran the saltwater stand, Gil Folgum fell for me, and we had a couple of dates, but he was too old for me. He had, in his favor, an outlandish sense of humor, which kept Mom and me in stitches. His favorite saying was "I go to church once a year, and sit in the front row so everyone can see me." To earn extra money for school, I also worked at a clothing store, for Lorne Huyck. He also had a crush on me, but was WAY too old, and serious. He was good looking for his age though … a little like Bing Crosby. (TV came into our home here.) I still have a dress in my closet I bought from his store, made out of coconut fiber. I was so impressed even then by the fabric and its classic style, and it still looks wonderful. It's a sleeveless summer dress, and now, at 83, I wear it with many memories. Another place I worked part-time, and hated, was a Hallmark card store in Balboa. Both places were a spit from the beautiful old Pavilion, and the ancient 3 car ferry … 5 cents a person, 25 cents a car that went to Balboa Is. The card shop was so quiet and boring. I could hardly stand it, but the owners were C.S., and good friends of Mom's, and she wanted me to help them out, so I did for a while. I remember painting a new sign for the outside of their shop. I actually did several commercial signs for people at that time. I loved lettering, and they were done in fancy typefaces.
Finally, by saving all my pennies, nickels dimes and paychecks I was able to head for Davis the next year. It was 1949, and the one huge drawback to going off to college was having to sell Terry, my sweet blood bay mare. It was the hardest decision I had to make, but it was the only way I would be able to go to school. Terry had come by way of Rosie Seigel, a friend of the folks and whose ranch they eventually purchased in Bonsall. If I wanted to get on with my life, I had no choice, and Dad sold her after I left for Davis. This made me more determined than ever to raise Arabians.
One of my high school buddies, Bimi Powell, was a year behind me, but also horse crazy, and planned to go to Davis. By the time I worked for a year, she had caught up with me, and we decided to go together. We had met a a gymkhana and realized our shared dreams. Lucky for her, her folks were wealthy and were paying her way, and they kindly let me ride up to Davis them from San Diego Co. We somehow managed to take our bikes along, and they helped us get settled in South Hall, which was the women's dorm at the time. The ratio of women to men was 1 to 10, being an ag school, so getting attention or partners to dance with at parties was not a problem. The problem was that at dances you were thrown around pretty much like a bale of hay. These guys were farmers … bug, strong, with not much finesse. My boyfriend, Guy Wallace, however, was different. Stiff, conservative, a vet school student, and brainy, at least I was treated like a woman. There were so few women at Davis that when they had the Queen of the Campus competition, I was actually elected as one of the contestants. Sweet Baba made me the most gorgeous dress … a dusty turquoise taffeta lined with black lace … to wear at the final judging/dance. I came in second, which was just fine with me.
Davis being an all Ag and Vet school, had no Liberal Arts yet. They offered a special two-year course in Animal Husbandry, and with my limited funds, that's what I went after. Bimi was in Pre-Vet, so we had very different classes, and saw very little of each other. Besides, I needed a job, and found one serving breakfast in the cafeteria every morning. One of the two kitchen chiefs was Bob Downey, whose looks reminded me of Jerry Armstrong, the guy I had a crush on in high school. So good looking, and so popular. The classes I had were Feeds and Feeding, Truck Crops, and Large Animal Anatomy. One day in this class they took us all down to the dairy barn, led in a huge Holstein cow, shot her in the head, and proceeded to butcher her in front of us. As they hacked out a particular part of her body, they passed the pieces around so we could take a good look at what brains, udder, liver, and heart looked like. Nice and warm and slimy! It was a real shock to me, but I was grateful it wasn't a horse.
South Hall, our dorm, was a large redwood structure with a lot of small rooms for students. My roomie was a woman from Sanger, a farming town near Fresno. Her name was Shirley, and I still see her clearly in my memory. Short, plain looking, shy, and super smart. She was also in Vet school, and I think she made very few friends that year, as she seemed sad and lonely a lot of the time, and studied endlessly.
Having my bike at Davis was a huge plus, with the campus so large and strung out. For some strange reason I decided not to wear my glasses most of the time, and developed the craft of memorizing what someone was wearing each day so I could recognize them across campus or down the hall. How stupid. I did manage, however, to take in some of the old town of Davis, which included the Cheese Factory for snacks, and Putah Creek for parties and beer busts. To see the town of Davis now you'd never believe what a tiny town it was then. I totally loved my year there, even with hashing at the caff. It was to be the only big-time experience in a University setting. I learned what college sports rivalry was all about, with our big rival being Stanford, and actually got to go to a game there once, and see the Big City of San Francisco. The most painful thing I learned, though, was how expensive and intense horse raising would be. Way over my head. My money had run out, and it was time to turn to Plan B.
I worked another summer at Pac Bell, then enrolled in Glendale City College. I realized that art was something I loved, and I could start my college education all over to become a teacher. My darling Baba, alone in her giant house n Glendale, was all too happy to let me camp in her sitting room while I started college again. This time, majoring in Art, I had the most delightful two years. Such a great faculty … Helen Rempel for painting and drawing, Bob Brown for silkscreen, Jean Abel for life drawing (who had actually been Mom's high school art teacher), and Bob Thomsen for photography and commercial art. I made immediate and close friends there and we did everything together, really challenging each other artistically. Randy Mackinson went on to write amazing books on Greene and Greene. Bruce Hopper went on to work with Saul Bass, and eventually ended up in Hawaii and married a well-known artist there … Peggy Hopper. Janet Marley and Jeannie ("Big Bean and Little Bean") and I were inseparable. We went everywhere together, cooked meals together, and remained connected until my move to Berkeley many years later. I learned so much about art at Glendale and adored being there. Bob Brown, a master serigrapher, helped get one of my fabric designs sent to a company in Jamaica for commercial use. It was a pattern of different silhouettes of black figures on a cinnamon brown cloth. I printed yard after yard of it to send to Kingston. I can't remember ever getting paid for any of it, and wish I had kept a sample.
Living with Baba was the other big plus of going to Glendale. She was always interested in what I was doing, and cooked wonderful little dinners for us at night. She had a small room off the living room with a daybed where I slept, and I remember buying a Hudson's Bay blanket … bright red with a wide black stripe, for the bed. Baba's main occupations were solitaire, baseball in front of the TV with a dish of peanuts, and crocheting. Her card table was right in front of the TV, so she could watch the Dodgers, and on nights when I had no homework, we played two-handed pinochle for hours. I still have some of her pillowslips with the crocheted hems that she made and I hope they last forever. Her big night was playing bridge with her old buddies of many years. They took turns cooking dinners for each other, then playing cards until late. It was Harry, Fanny and Louise with Gertrude (Baba), the fourth. I still have the silkscreen portrait of them I made in class. When it was Baba's turn to cook, it was always sauerkraut and pork chops, baked in the oven to a flavorful brown crusty dish. Big Idaho spuds cooked along side provided a wonderful meal.
My boyfriend the first year at Glendale was Al Demmerle. Dark haired and swarthy, Al was a little older than the rest of us, and a lot more mature. We had good times together, mostly going to clubs that were playing Dixieland, which he adored. He knew all the musicians, old and young, their histories, habits and downfalls. Since he had a car, we really got around. Dixie was OK, but not my favorite. Still, it was a chance to go out, and that was always fun. On my birthday he gave me a lovely Le Coultre watch. It was the first piece of fine jewelry I ever had. His car was a darling old 1928 Chevrolet convertible. As our second year at Glendale began, he got called into the service, and left his car for me to use. He taught me how to double-clutch, and I was honored to think that he trusted me with his baby. It was such a cutie … in perfect condition with its rumble seat and soft yellow paint job. Having a car enabled me to drive from Glendale to Balboa once a month or so to see the folks. As I think of it now … driving that little treasure through L.A. and its traffic, on old surface streets makes me shudder. I was so lucky not to have had any accidents. Al got home from the service just as I was graduating with my A.A. Both of our lives had changed … and I was enrolled at Long Beach State. He took his car, his new life, and I went on my way to continue my education.
The summer presented itself again in Balboa, and the need to get a job. I didn't want to go back to the phone company. I wanted something with better money and more fun. I decided to try waitressing. There was an established restaurant on Balboa Is. that offered to train me, and I jumped at it. Ted Owen's places were good restaurants … a little formal … which was a good place to start. I learned all about seating customers, taking orders, serving properly, but most important … how to get along with the cooks so that your orders came out looking OK. We had a little Filipino cook who gave us all a bad time. Some days he was in a good mood … other days horrible. If he didn't like the way something looked, he called it "cream of messy" … which meant poop. We ended up on good terms though, and he always gave me nice looking orders. That was important in the tip department … good service … good food … good tip. And 25 cents was a big tip!
Another task I learned about was called "side work." Whenever there was a lull, your job was to fill sugars, salts, peppers, and fold napkins. Make sure the coffee pots were full … creamers freshened … etc., etc. I never figured out why, but customers always come in bunches. You can be doing side work for half and hour with an empty station, and suddenly all your tables will be filled with customers. I learned a lot, which held me in good stead for future summers.
In the fall I began school at Long Beach State, which was a new college, with many of the classes held in trailers … called "temporary buildings." It offered a fresh feeling of something just beginning, and had a wonderful art faculty. I took ceramics from Ward Youry, painting from John Olsen, life drawing from Ernest Zeigfield, and design from Frank LaPrell. It was here I met Pete Raven, Jerry McCabe, and a bunch of other very talented students. I rented a garage, which had been turned into a small bachelor pad, and began another year studying art. My hobby was music. I had graduated from the ukelele to the old pear-shaped guitar Dad had given me. One of the art students, Keith O'Hara, a tall red head who liked me, gave me my first LP record … one of Andres Segovia playing the classical guitar. I had never heard such music, and I think I played that LP until it wore out. I was so beautiful.
My first year at Long Beach was a continuation of excitement that I felt at Glendale. Good friends, great teachers, and fun projects that really challenged us. The only dull part were the classes I had to take for a teaching credential. Statistics, Audio-Visual, Grading, all very dull. I came out in two years with a credential, needing only now to do my student teaching. But there were some complications along that path.
Summers during the years at Long Beach were spent working at a neat hamburger joint on Balboa Is., called the Jolly Roger. It was owned and operated by a man I really liked named Art Salisbury. He was easy to work with, and had a great sense of humor, and attracted a young energetic clientele, which made it fun to work there. My training at Ted Owen's came in handy … as I was given a job right away. I did only counter work, as there were no tables. It was here I was to meet my first husband … Bill Martin … He and his gang of friends would come in all full of laughs and energy, and helped take my mind off Bill Marx, who had hinted that he was going to leave his marriage. We even dated a few times, and I was so in love with him, hoping that there would be a chance for us to finally be together. When he decided to stay with his wife I was heartbroken, and wide open for an alternative to salve my wound. Bill Martin became very attentive, and after a short dating period, he proposed … and I accepted.
We were married at St. Andrews Church in Costa Mesa, near the High School I had graduated from It was a big traditional wedding, and must have cost the folks a bundle. Fancy dress, cake, church pastor, invites to all our friends and relatives, and a photographer with a hundred pictures. Olive Denghausen was my maid of honor. I had to register at all the local stores for dishes, silver, and crystal. What a method … so embarrassing. Bill's parents lent us their big Packard convertible for our honeymoon, and Bill wanted to go to the Bonneville Salt Flats in Utah. His guru, Bud Hare, was there in the hopes of breaking some sort of speed record on his motorcycle. I remember so little about that "honeymoon" except that it had very little to do with me, or us. It was all about Bud, and salt flats, speed, and a lot of waiting around. Our wedding night bed was a painful nightmare, since I was still a virgin. Mom's words had done their job, and Greg came along 9 months later.
I have to admit, with all the wonderment of art classes, good friends, great teachers, and getting married and pregnant, the most important life changing event that occurred at Long Beach that first year was meeting Maya Miller. It happened like this.
Every few months the art teachers would submit pieces of student artwork for an exhibit in the school gallery. One time a life drawing I had done got chosen. It was a drab piece, of a man sitting on the edge of a bed in his nightclothes. I had fashioned the profile after one of the art teachers, whose face I knew very well. Dick Miller was teaching geology at Long Beach then, and Maya, who went to all the art events, saw the student show. She fell in love with my sketch and bought it, asking the teacher if she could meet the artist. An introduction was arranged, and Maya asked me to come for lunch at her home in Belmont Shore. It was a lovely place, sunny and open … but the best part of the afternoon was that we shared our pregnancy. I'll never forget that lunch, and the new world it opened up for me. Even the salad, drizzled with the zesty garlic dressing Maya always made, sourdough bread just out of the oven, and interesting conversation was like an awakening. It led to many future get-togethers.
Bill and I lived in a darling wooden bungalow on Balboa Is. that belonged to his folks. I worked at the Jolly Roger until I began having too much morning sickness (all day), which lasted almost the entire pregnancy. Just lucky I guess. Bill's and my relationship went from shaky to bad. His old buds hung around, drinking beer, and saying how it was too bad that Bill had "____ed" himself out of a truck, meaning that we'd have to get a car instead for the baby. I finally realized that the marriage had been a huge mistake and must have been a real drag on Bill, who wanted to ride his motorcycle and hang out at the JR with his pals. Six months into the marriage, I used the little savings I had to put a down payment on a cute shack in Costa Mesa. It was a darling, sunny, termite-ridden cabin with a nice open back yard full of weeds. I moved in with my folks help, and loved it. Even though the pregnancy sickness prevailed, I was in a much better place mentally.
During my last year at Long Beach Pete Raven and I had become closer friends. In fact, he knew I was divorced, and pregnant, and still asked me out. This was before Greg was born, and needless to say, I was impressed. Pete was a good artist, especially in commercial design, clever with words … (his cute ad for a dress shop showed an old-fashioned wire dress form, with the words "She's only a build in a girdled cage," and had a keen imagination and sense of humor. The fact that he would date me earned him major points in my book. We went out a few times before graduation, after which he got sent off to Navy school, and then to Japan, as a Lt. Jr. Grade. He specialized in decoding, and was good at it.
That summer, June 1953, Mom and Dad moved in, by planting a motor home on the front lawn of my little shack. They had rented out the house on the Point for the summer again. Mom and I had made a trip to Glendale to visit Baba. One evening my cousin Joan and I thought it would be fun to play miniature golf. We were having a great time, when all of a sudden I began to cramp terribly. Greg was on his way! We rushed to Hollywood Presbyterian Hospital, and believe it or not, Neil Gregory was delivered on July 3 by Dr. Bilon … who had delivered Victor in Glendale years before on Pacific Avenue. I had missed Dad's birthday by 24 hours. A couple of days later we made our trip back to Costa Mesa, with a precious little bundle in our arms.
When Greg and I got back to Costa Mesa, Mom hired a nurse, Doris Brogden, to come live with me for two weeks until I go my strength back. Mom never really wanted to be a grandmother, and didn't want to babysit … ever, so she certainly didn't want to help with a newborn. As I recall she didn't ever want to take care of us as babies either. Tadoo was always there, and I wonder how Dad afforded it. Probably Baba helped out, since she had some money. Doris was a sweetheart, and I learned a lot from her. She took great care of me and Greg those first 2 weeks, and I was so grateful she was there. She taught me one magical kitchen trick of putting two raw eggs in a small bowl, and whipping them just so the the whites got frothy, and without breaking the yolks. At the last minute, the yolks got whipped in, creating the makings of an incredibly light scrambled egg. Thankfully, she came back again when Gary was born. Life was now definitely more complicated with a first baby, single mom schedule. Mom and Dad must have lent me money for a while until I could get back to work. Bill's mom "Mem" would come occasionally to visit and to see Greg, who was a darling baby. She was a sweet woman, and I would have done anything to save her the pain of our divorce, but I just couldn't tolerate her son.
The little cabin was so full of sun and light, and had a small lawn out front where I could sit with Greg for sunbaths. I got a duck, a white Pekin, and some cats. It was a good time. Part of that good time feeling was provided by some fine neighbors. Right next door lived the Shoreys. Bob, Suzy and their son Lee. Bob's 85 year old mother, Bambi, lived in another shack behind their house, with a roommate, Cliff, who was disabled. Bob was a thin, wiry man who rode his bike to work every day, a distance of 10 miles or so each way. He and his buddies all worked at a boatyard in Newport Beach. His real passion, though, was music and sound. He was a genius at constructing high fidelity equipment. I heard music at their house like I had never heard it before. He owned an enormous collection of LPs … Jazz, Classical, Big Band, and some Multicultural music.
Once a week he'd invite me over to join him and his music devotees to listen to the sound. I bundled Greg up and he'd sleep in a back bedroom while we all oohed and aahed about the music. The usual suspects were Ida and Arlie Toulouse with their daughter occasionally. One night she surprised us all by belting out "Marzie Doats and Dozie Doats" which none of us had heard yet. We figured that music would never go anywhere. Wrong! Arlie had been first violin for a well known symphony for a long time, and now was at the boat works. Another boat buddy was Burt Miller, a previous naval engineer from Newport News. Others included Eric and Gayle Irwin. Eric, who could charm the skin off a snake, became my lover for a short time after he and Gayle had broken up. He later fell in love with Seattle and lived there until he died.
Suzy, Bob's wife, was a beautiful overweight woman with a big laugh. She worked somewhere, and was having an affair with a local overhead door guy who would come to their house when Bob was at work. Their son Lee was about 10 when I lived there, and became a constant visitor. Dad called him "the face at the window," but I loved his company. I'm sure he adored Greg, and would play with him by the hour. I've always wondered what became of him. Bambi, living in her tiny shack out back was always an amazement to me. She always had a garden, and grew the largest, reddest, juiciest tomatoes I've ever eaten. She'd have me over for dinner … someone to talk to … and cook hamburger patties. Then she'd put one of those tomatoes sliced over the sizzling meat. That was it. Maybe a slab of bread, but I can't remember anything but the tomatoes. One late summer afternoon I heard faint musical sounds coming from the direction of her house. I peeked over the fence, and there was Bambi, sitting out on her worn wooden steps, plunking away on an old 5 String banjo. She was playing old time music she had learned as a girl. Cliff was sitting in his wheel chair in the garden, listening. I went over several times after that just to listen to her play. When Bambi died, Bob gave he her banjo, which I still have, and play occasionally, although I'll never be able to play it the way she did.
The one glamorous event in Bob Shorey's life that I experienced was a day when Clete Roberts, a charismatic, well-known newscaster, came to visit. He drove up in his 1934 Ford Phaeton, and spent the day with Bob, who later called me over to join them. Clete very theatrically invited me to join him in a glass of wine … a "loving cup" as referred to it. I don't know what their connection was. Maybe sound. But what a handsome, charming man.
Bob helped me with so many things, which sustained me through a difficult time. Getting a divorce, expecting a baby, and having my parents living on the front lawn in a camper. His favorite saying … "you are where you want to be" puzzled me at first, but I think there's a lot of truth to it.
Another neighbor I remember with affection is Mary Jackson, who lived across the street. She was married to Allen, who owned a dry cleaning outfit. They had two kids, Susie and Eddie boy, as we called him. Mary was in Christian Science, as was I at that time, which made it nice. She helped me with Greg when I found a job. I patched together a bit of work here and there. One job was doing silkscreen patterns on metal plates for electrical circuits. The owner of the business, Tom Darling, had a hobby. He was building a boat. He soon took me off the silkscreen jobs and put me to work on the boat, steaming the strakes that became the side planking of the hull. It was hard, heavy work. Being a large hull, the strakes were 2"x8" or thereabout, and when they came out of the steamer we had to quickly bolt them to the ribs while they were still flexible. One time, there was a loud crack, as the strake chose to crack instead of bend. Of course I got blamed. His shop was on the far side of Costa Mesa from Where I lived, so once again I was on my bike, riding to work. That bike came in handy with Greg, too. For fun rides around the neighborhood I put him in the wire basket in front of the handlebars, with a canvas affair I designed to strap him in tight. He loved going for rides even before his could sit up by himself.
Pete wrote every day from Japan. Wonderful, artistic envelopes came regularly enclosing love letters. I still have the envelopes. He always mentioned his favorite movie, "Shane," which he had seen at least a dozen times. Our first date when he came home was to see the movie, since I hadn't seen it … and he fell asleep. I wasn't surprised. The letters and artwork had won me over completely, and when he asked me to marry him I accepted immediately. I was so enjoying having my first child … learning how to cope with all the new activities that go with a baby. Greg was a sweet baby … with little crying and fussing. I loved bath times in the soft folding tub, which also was a changing table.
Pete and I rushed off to Yuma for a quickie wedding, much to Mom's disgust, but I just couldn't face another big wedding. Besides, the Ravens weren't too thrilled about having their only son marry a divorced woman with kid. Jens Raven, Pete's dad, was Danish from the old country. He had owned a Monterey double ender type fishing boat for some years, but then changed to art. He was an incredible painter of murals … the kind you see inside homes on walls in dining and living rooms. Soft, muted and romantic landscapes were his specialty. He also painted ceiling beams with traditional Danish designs. Really a classic painter. In Denmark, his hame was Raun, which he felt would be hard to use in America, so he adopted the translation, Raven. A man of set habit, it was a glass of whiskey and cigar on the dot of 5 every afternoon, and dinner at 6. I liked him, with his jolly personality, and he was always kind to me. Louise, Pete's mom, was from Norway, and a little harder nut to crack. She didn't like the idea of me being Pete's wife from the beginning, but we eventually became very close. She had us for dinner several times, and was an excellent cook, but would never sit at the table with us during the meal. Pete's young sister, Gloria, was a clotheshorse, made so by the family's desire to be upper class Americans, not foreigners. Mrs. Raven continually made new fancy dresses for Gloria, and she was always perfectly groomed. Very different from the way I was raised, and the way I lived.
As soon as we were married we spent a month waiting for Pete's discharge, living in the small depressing town of Palm City, near Coronado, where he was stationed. Maybe depressing because I was a new Navy wife, with a new little baby, amongst more experienced women. There were certain behaviors expected of me, like dressing up just so, and playing Bridge (which I didn't understand), and attending teas. All I wanted to do was go to the beach with Greg. I shunned the parties and Bridge games, and spent hours doing just that. I noticed that one of the officers, a Commander O'Koolitz, rode his gorgeous Arabian mare on the beach every day, and all I could do was drool. The mare ran like the wind. She was soft dappled grey, and when he stopped by to talk one day, I told him about Terry. I must have been convincing, and he offered to let me take a ride. He held Greg while I climbed on. Oh my gosh!! … As soon as I was in the saddle she took off, and I had one of the fastest rides I'd ever had … even on Terry. It was wonderful, and a great balm for all the frustrations of being a Navy wife.
One of the good parts of being in that area was seeing the Hotel Del Coronado, and having an occasional meal there. The Coronado is one of the jewels in the neckless of beautiful Victorian hotels of that era. The Claremont in Berkeley is another. Many of them are gone, having burned, but these two still exist. I also remember a welcome visit from our good college pals, Jerry McCabe and his wife, Marcia Berman. Jerry was to become an incredible furniture maker, (just look at my dining room table he made for Pete and I out of African Sedua wood), and a lover and collector of Citroens. Marcia, a musician doing children's music, became one of my gurus, teaching me so many songs and how to play the guitar.
From Coronado we moved back to the little Monte Vista cabin while Pete got his teaching credential. He adopted Greg legally, since Bill Martin seemed to have no interest in staying connected with his son, and before we knew it, we had another baby on the way. Maya had her first son, Eric, and had just delivered a daughter, Carson Ann (Kit). We were in touch whenever possible, and right after she had Kit, she sent me a box of beautiful maternity clothes. With our skimpy income, I had been wearing some pretty sad looking outfits. But when Pete saw the clothes from Maya, he threw a fit. It was like he thought we were getting welfare, and this was against all the ideas he had been taught by his folks, in their attempt to leave the old country behind. It left me not knowing how to handle this new side of my husband. Pete was such a great Dad for Greg … and we were having a great time in our little home. Luckily, when Gary Wayne came along on September 28, 1955, all that was under the bridge. The babies were so darling with each other, often lying on a bed just looking into each other's faces. It was an exhausting time for me … and I was strict about naptime. I was the one that needed it. The one thing I missed that last year in the cabin was being able to go to the Shorey's and hear music on the weekend. My connection with them now was with Lee, their son, who came over a lot to see the babies. He was a darling boy, and lonely, I think, judging from how often he would come visit.
Pete got his credential, and immediately got hired by a school in Long Beach. We sold the little termite cabin and bought a beautiful home in Belmont Shore, on La Verne Avenue. It looked like a miniature castle, with a minaret, and a small front yard fenced in by a low cement wall, making a perfect place for the kids to play. I loved it because it was so close to Maya, and we could get together often at her beach house with the kids. Her new babe, Kit, was roly-poly, cheerful and cute, and held her own with the three boys, as only a baby girl can.
Through the years that followed, Maya helped me in so many ways. I remember one particular time when I had a chance to attend a workshop for a week at Pond Farm with Marguerite Wildenhain, a master potter. Maya owned some Pond Farm dishes, which I had admired, so when the chance came to actually work with Wildenhain, I was excited. Pete wasn't in favor of it because of the cost, and the kids. Maya offered to take care of both, so off I went. It was one of the most interesting workshops I've ever attended. We all worked at our own wheel in her studio, and the first assignment we got was to throw ten small cylinders as perfectly straight as we could. Wildenhain then came around to each of us with a wire cutter, slicing each cylinder in half from top to bottom. It was easy to see how well … or how badly … each one had been done. If they were to her satisfaction you were allowed to throw a pot of your choice. If not, you did ten more cylinders until she gave her consent to go on. On one of her sweeps through the studio, she stopped and looked at a small bowl I had thrown and decorated. Her comment: "You are not completely without talent" (!) Stopping by one of my friends who also went to the workshop, and who was decorating her pot with tiny, careful marks, she said "Ah! you must be Mrs. Vedgewood!" (Wedgewood) Her own pottery was so outstanding, and so beautiful. Sturdy, like Wildenhain herself, and freely decorated with flowing strokes that reminded me of her long grey-streaked hair. I ended up buying 2 of her pots before I left, which I still have and love.
Maya's folks also had an ocean front place in Corona del Mar, and many times we drove there with the kids taking picnics for the beach, exploring tide pools, and getting well acquainted with her folks. Olivia, her mom, was a sweet, intelligent old Swedish woman, full of grace and stories of Swedish festivals and customs. She had a quick sense of humor, which made it fun to be around her. Maya's dad … Paul Paine, was more reserved and quiet, but very friendly. He had been an oil geologist, working for Union 76 in the very early days of that company. In the beginning the company couldn't pay a lot of salary, so they gave their workers stock. Over the years, that stock turned to gold, as you can imagine.
The days playing at Maya's beach home with the kids was delightful. Being on the bay, the water was calm and a perfect place for youngsters. We would spend all day with our four kids, making sand castles, puddling in the water, and picnicking in the front yard. Marcia Berman came with her daughter, Halley, and her guitar, showing us wonderful songs she had written for kids … songs that I have used many times over the years. I was noticing too Maya with her camera, and how she took pictures of the kids. She never asked for a pose … just took snaps of what was going on, and ended up with precious shots. This really impressed me, and I went on to use the same technique both for my own kids, and later using it professionally. While Pete worked, we played, and I learned so much about raising kids that would never have occurred to me. So different from my own upbringing. I don't remember my folks ever telling me they loved me … or giving me hugs. I never doubted that my brothers and I were loved, but it was never demonstrated I suppose it was a totally different generation … different values, and a very different class of people. I also noticed the political work Maya was doing … trying to save the bay from pollution, and later working to save Lake Tahoe. It was, I think, the beginning of a very political life for her.
Greg and Eric, growing up together, became close friends, a friendship that was to last for years. Likewise with Gary and Kit, making it a close foursome. As soon as they were old enough, Greg and Eric got enrolled in a local Coop nursery, which Maya knew about. I had never heard of the concept, and got totally involved. The idea being that every other week or so you were expected to be one of the helpers at the school. Not only were you to be there, but you were to bring something to enhance the morning. A snack, a story, an art project, or, in my case, some songs. I was now really into the guitar, with Marcia's help, and loved the opportunity to try them out on the kids at Coop. It was there I discovered the magic of music with kids. Maya gave me two wonderful books: Songs to Grow On, and More Songs to Grow On by Beatrice Landeck, illustrated with darling line drawings by one of my favorite artists, David Stone Martin.
I made sure that I learned at least two new songs each time I worked at the school. The teacher was a sweet older woman named Mrs. Halliday. She was so tuned into the kids that it was a joy to watch her. In order to be in the coop Maya and I had to attend a class taught by Jean Eng, which helped us know how to work with the kids, take observations, and generally be in tune with the activities. We had to watch our own kids at home, and write observations for her to read and evaluate. It was so helpful, and she called the whole process "Dilution therapy," since a lot of us in the class had the same problems with our kids, and you realized that your kid wasn't the only one doing something you couldn't explain. So … each workday I came with my little pear-shaped guitar that Dad had given me years before and sang with the kids. Soon Gary and Kit were added to the equation, which meant more work days … and all the more music. I loved those Coop days.
An old friend of Pete's from high school, Wayne Weidner, became enamored of the kids, and came over often to visit. "Unca Wayne," as the kids called him, was such a dear. He always brought a small toy or something to share with the kids. Wayne was a butcher and not married until much later, and we always were delighted to see him.
Life in Belmont Shore was good except for one sad event. I had gotten pregnant again, and was having difficulty. The Doc said I needed to stay in bed, and off my feet for the duration of the pregnancy. I was about 6 months along. Maya, in her inimitable way, jumped in, and hired Peg Wheat to come from Nevada and stay with me. She took care of the boys, cooked, and made sure I stayed bed. Sadly, after a few weeks, I miscarried anyway. A baby girl whom I would never know.
Dick and Maya had bought an old farm in Nevada some years earlier, just outside Carson City, in Washoe Valley. Dick got a job at the Museum in Carson, and they decided to move there. About that time, Pete got a new job teaching Art in a JC in Santa Ana, in Orange Co. We moved from our sweet castle to a new home in a tract called College Park, in Costa Mesa. It was my first brand new home. Right across the street lived Murray and Phil McEachern and their kids. Dot Hogen was in the house right in behind ours with her four kids, so there were so many tots in the neighborhood that we had coffee klatches every morning at one of the homes. The moms would chatter, the kids would play. It was wonderful, but I missed the Coop, Maya and her kids terribly. Murray McEachern was a great horn player, and was off in the big city playing with big bands much of the time. This gave his wife Phil, Dot, and me a lot of time to gab while the kids played. Dot's kids were Rory, Terry, Randy, and Linda. Rory has come into my life several times since as a grownup. Lots of Dot's and my conversations were over the back fence, and we became very close. She was an avid tennis player, and played tournaments all the time. Even in her 1970s, she was playing competitively.
Moving into a new home with no landscaping gave Pete and me a chance to design and plant the yard we wanted. The first large investment was a 15 foot Aleppo Pine for the front yard. We liked the untamed look it had as it grew. Lawn, front and back for the kids, plus lots of other various bushes and trees to fill out the garden. Pete was enjoying teaching at the college level, so we were both in a good place at that time.
Mom and Dad had moved from the house on the Point to a corner house on Broadway in Costa Mesa. My family of cousins was increasing. Vic married Sue Keim, a pretty, perky blond, and started a family with their first son, Jeffrey. Dick came back from the service having met the woman of his life, Nan, a divorcee with a young son, also a Jeff. Nan had grown up in Yakima, WA, on an apple orchard, and was a handsome, hardworking woman. They soon had a baby girl, Dobie, and made plans to move down to Bonsall and help Dad develop yet another avocado grove on the land he got from Rosie Seigel. We had wonderful family gatherings at the folk's house … Easter egg hunts, Thanksgiving and Christmas celebrations.
Vic and Sue had two more sons … Bruce and Kenny. Ed and John Martindale also married and started families. Ed married a wonderful zany woman, June, who had bleached hair pulled back in a bun so tight it must have hurt. She had lots of energy and a big laugh that I loved. They had two sons … Jimmy and Marty. John married Ann, and had Johnny and Lisa. Sadly, both Jimmy and Johnny died of Aids. We would see Joan occasionally, with her hubby Lane Lowe, a Porsche freak. Their marriage lasted only a short time and Joan moved to Oregon with her mom, Aunt Ibby. Her dad, Uncle Reynolds had died early, leaving her mom alone. Myrna Martindale, Ed and John's sister, married a couple of times but she and Joan never had kids.
By now Dad was working with the city doing Right of Way jobs. Mom was pretty much doing nothing, but loved to knit, and I still wear some of the dresses she knit for me. She could do anything with knitting needles, including a beautiful afghan I have in which all the squares are of a different pattern. She also did fine repair weaving on garments for people, and also crocheted many items. She loved working with her hands, and was so talented that way, and it was very hard on her in later life when arthritis took that away from her. She bought a knitting machine at one time, thinking she could turn out outfits quickly, but never liked the way the knit looked when it was finished.
After a couple of years in College Park, we yearned for a place with a larger, more creative yard for the kids. They were getting leggy and needing more space. We found an older house on the other side of town, on Canyon Drive, which had a huge back yard that plunged down into a canyon full of trees and a tiny creek when it rained. On the level with the house with a back patio with two messy silk oak trees that shed continually. We got a few chickens who politely stayed in the canyon. One turned out to be a rooster, who got increasingly mean, and would attack the kids when they went down to play. We called him Oscar … and eventually had to eat him. Even that was tough, in more ways than one. Vic found a big old fishing boat hull that we somehow dragged into the canyon, which make a great play structure for all the kids in the neighborhood. Easter egg hunts were weeklong events with so many wonderful hiding places. We had gobs of kids in that neighborhood … the Marsaudons next door with Marguerite, Noel, and Davy. Their parents, Carole and Phil were delightful people. Phil was a gardener, and managed to work even though he was handicapped with one leg a lot shorter than the other. Carol was a beautiful small woman with dark hair and a sweet disposition, even though I know times were hard for them. The Wallace family lived a couple doors down with 2 kids, and Sue, the mom, was kind and sweet if a little prissy. Jim the dad was just the opposite, noisy and boisterous, a know-it-all, but also sweet. At the end of the street was Paradise Gardens, run by Courtney Caldwell. It was a tropical nursery full of Clevia and Giant Bird of Paradise. It gave me a good reason to go for a walk and get away from the housework. Courtney was always friendly and ready to stop and chat.
With both boys in school, I missed the coop experience, and decided to form one in Costa Mesa. Somehow I got a few families interested and we met in churchyards, with the church allowing us to use a bathroom for the kids. I think we traded them some cleaning and yard work for the use of the space. We hauled all the equipment from place to place, storing it in garages when not in use. It was a lot of work, but definitely worth the trouble. Then I got pregnant with Jenny, and the morning sickness struck again. The only way I could keep working was to suck on an orange all morning, which kept the nausea at bay. Jennifer Jean Raven was born while we were at the Canyon Dr. house, on July 3, l961. I had managed to have two kids within 24 hours of Dad's birthday, July 4. Jenny was delivered at Hoag Memorial Hospital, by the same doctor who had delivered Gary … Dr. James Watt. It was here that Pete began to exhibit more of his temper. I'll never forget the day. I was still in bed, recouping from birthing Jenny when he came into the room. He was getting dressed for work, and noticed a small … and I mean small wrinkle that I had ironed into his shirt. He ripped it off, popping all the buttons in the process, and cursed, stomping out of the room. It was one of many such scenes, with some ending with him putting his fist through the wall.
We had lived on Canyon Dr. for about a year when Phil Marsaudon walked into the ocean one day and never came back. Poor Carole was devastated. So little income, and three kids to care for. She took a job at the Bic pen company to keep things afloat.
And although we moved, yet again, out of the area, we kept in touch for years, and I still get Christmas cards from Noel and her family who live in Houston.
Our next move was to Santa Clara, on Kellogg Way, as Pete had gotten a job at San Jose Sate College. We found a nice housing area with homes old enough to have large shade trees up and down the street. Our next-door neighbor was a British woman who had darling twin boys just a little younger than Greg or Gary, and older than Jenny who was now over a year old. Alma would invite me over for a "nice cup of tea" that would wind me up for the rest of the day. It helped me understand why the Brits are always stopping for a tea break. The morning tea breaks we shared while the kids played gave us a chance to become good friends. In fact, it was during one of those cups of tea that the announcement came of Kennedy's assassination. What a horrible day that was … and how glad I was to be with someone.
After Dick and Maya moved to their new (old) farmhouse in Nevada, we were invited to join them during vacation times. They named their new home Orchard House, since years ago it had been one of the first apple orchards in the area. The old trees had just about disappeared, but the land was beautiful. The house was located where the Eastern slope of the Sierra Nevada plunges to the floor of Washoe Valley. Huge Jeffrey pines covered the mountain slopes, giving out their wonderful smell of vanilla and spice. In front of the house, sage and scrub covered the land down to Washoe Lake. The drive from our So. CA home was up Hwy 395, through miles and miles of desert, and could be treacherous in the winter with heavy snow and ice roads. We'd load the car in the late afternoon, have dinner, and at bedtime tuck the kids in the back of the car, and head out for the 500 mile drive. One time we had an old VW wagon, which didn't make the best of time, and pulled into Orchard House mid-morning the next day. The drive from Santa Clara wasn't so daunting, but the Sierras could be a real challenge in the winter. For a short time we had an MG Magnet, which was darling and the love of Pete's life. Once again, appearances meant everything, even though it was expensive to maintain with its touchy innards. Following that we got a sweet Ford sedan … the one with the sculptured taillights that gave it a slick look and the first one of its kind, which pleased Pete.
Once ensconced at Orchard House, with Dick working at the Museum, the Millers decided to enlarge the house by adding a large living area and new kitchen. They hired Wendell Wheat, Peg's husband. He was a beekeeper, a fence maker, and, like my Dad, could do just about anything else. A whole new room was added, made from cement block and huge roof beams. Large windows looked out over Washoe Lake, welcoming the early morning sun. A swimming pool was added out back, in the shape of a whale, bowing to Dick's expertise in fish, with a specialty in Antarctica. Maya's habit every morning was to watch the sun … and when it crested over the distant hills, she was in that pool … no matter what the weather … until it froze over. Oh, those Swedes!! Soon after, a hot tub was added, which became the second dip. Not being a cold-water freak, it was the latter that got my attention.
A couple of years later, the big divorce ranch next door went up for sale. Afraid some developers might buy it and put up a bunch of houses, Dick and Maya bought the property, which consisted of a dozen or so tiny cabins where the clients stayed while their six week divorce was brewing. A large swimming pool, horses, corral and barn, with the jewel on the property being the Will James Lodge. James had actually lived there at one time writing his cowboy stories. The building was made of logs, and had a large kitchen, a wonderful cozy living room with a stone fireplace, and a couple of small bedrooms and bathrooms that must have been added later. There was also a nice cottage on the property near the pool where the previous owners had lived. Once the Millers had become owners of the vast property, the next challenge was what to do with it. Greg, Gary, Eric, and Kit were still pretty young, so Dick and Maya drummed up a few local kids they knew, and Washoe Pines Environmental Summer Camp was born. I was hired as the art director, and was in charge of art projects, campfires and music. That first year was patched together amazingly well, with Peg Wheat becoming the cook, bringing with her not only her cooking ability, but introducing us to the wonderful Wuzzie George and friends. The wrangler, a leftover from the dude ranch, hated Peg's cooking and would declare each night … 'I'm going to town," which pleased us all, since he was such a grump. Wuzzie, an old Paiute woman from Stillwater, came every year after that to show us many skills the Paiutes had that made them survivors in the harsh desert. The camp fashioned itself in the environmental form … with weekly field trips to the desert floor, bat caves, wonderstone fields, mountain meadows, and alpine forests. the ecosystem of each area was studied, with the interrelationships that existed. It was such a special experience for the kids, and my kids had the benefit of it for many summers. Days were ended around a campfire or inside by the fireplace where we would sing and hear readings from Mark Twain, Dan deQuill, and other Western writers.
Jenny was still just a baby that first year … which kept me busy.
Each year we had more campers, with Maya lobbying heavily on the East Coast for kids from families with political clout, who needed to know more about the West, and how important the environment was, even though it all looked like a desert. All in the interest, too, of fighting proposals like the MX. She also got support in the form of scholarships for some inner city campers. We gained some Black campers from Las Vegas, Chicago, and New York. The year Don Carlon joined us he created a huge organic veggie garden for our kitchen. The campers helped a bit, with some rebelling when it came time to eat the wonderful green salads, saying, "We ain't gonna eat these weeds!" There was no hesitation however, when it came time to pick an ear of corn right off the stalk, shuck it, and toss it into the huge pot of boiling water just before dinner. It was a summer job I will always remember with warmth and pleasure. Greg and Gary got to hike into the high country as mountaineers, and Jenny had her favorite old horse, Little Joe, to ride in the Gymkhanas.
My last three years, from 1973-1975 were spent as director, passing the job onto Marla Painter. Marla was the perfect person to take over. A great hiker, she was knowledgeable about the environment and politics. Other great friends who I am still in touch with from camp are Marty Makower and Mag Bell, who were wranglers, Jake Drake, who was our cook a few times … and Jean (Weed) Evens who helped with crafts, art, and field trips, and was in charge of the Tinker Truck. It was during "74 that Maya ran for the U.S. Senate, which created some interesting times for us all. She lost by a small margin, which was quite a feat in those days.
The years in Santa Clara gave me the opportunity to whet my ability of singing with kids. The preceding years, singing at the coop was so much fun, I felt I could earn some extra money by singing in local pre-schools and coops in the Bay area. I especially remember a charming little school in Half Moon Bay. I had an old VW bug of my own, and would load it up with my guitar and Jenny, and chug over to the coast. After my gig, Jen and I would go to the beach, enjoying the unusual sand at that particular place, with the grains so coarse they brushed away with no trouble when it was time to leave. I learned a lot of songs for children, using the Landeck books, and having Pete Seeger and Sam Hinton as my guides. The busier I became the more Pete hated it, and I realized that if we stayed together this part of my life that I loved would be totally stifled. He, on the other hand, was making good connections with his teaching, and his art. One Christmas we drove to Southern California to be with our families. There had been more incidents of Pete's fist going through the wall and terrible arguments, belittling my music and my friends. I quietly packed some extra suitcases with clothing for me and the kids. I planned not to come back to Santa Clara with Pete. On the day we were to leave, I told him I was not going with him. It was a sad parting, trying to explain my feelings, but not as hard as I thought it would be. Perhaps he had been harboring the same thoughts as I.
The kids and I moved into a cute apartment over the folk's garage that Dad had built, and that Dick and Nan had lived in for a while. A few weeks later Dad and I drove to Santa Clara and collected more clothing and a few belongings (and our pet cat, who proceeded to stink up the car on our way back.) When his teaching year was up, Pete sold the house and moved to New Mexico. We split up our properties. Most of the house dollars went to him, but I got the nice chunk of land in Bonsall. Nineteen acres of sagebrush surrounded a little shack and an old house trailer, with the best part being some major size oak trees, which were settled in a barranca running through the land.
We had bought the property years ago from Dad, and used it for camping. I loved the thought of living there in the country, and having a real garden.
While living at the folks, I did part-time work, coaching tennis at Newport Harbor High, painting fancy signs for businesses, making personalized silkscreen cards for friends, photographing kids, and cleaning house for Mom, which helped with my rent. The boys were in elementary school in Costa Mesa, and I began drawing plans for my new home. After getting them to my liking, I drew them to scale, and took them to Phil Gaudet, an engineer for the final blueprint. When it was all complete, I applied for a teaching job in Escondido, and got hired as a full time art teacher!
In the fall when my teaching job at Orange Glen High School was to start, the kids and I packed up and moved to the ranch where Dick and Nan were helping Dad plant an avocado orchard. There was an old, small trailer on the property, and we lived there while the house was being built. Dick and Nan and their kids had lived in the trailer while they built their cute hexagonal home, which they also designed themselves. The trailer had a double bed in the back where Greg and Gary slept, and Jenny slept in a large drawer in a hallway cupboard. Thus we added "Kayo" to her list of nicknames, borrowing from the old comic strip, Moon Mullins whose little character did the same thing. The little couch in the front room became my bed each night, as I was always the last one up. In the cold wintertime, we'd lay a fire in the tiny pot-bellied stove, banking it when we went to bed. Not too effective but better than nothing. Greg became a real expert at starting the fire up again in the morning to warm us as we got ready for school. Nan took care of Jenny, bless her heart, and the boys caught the bus, while I drove half and hour over the back roads from Bonsall to Escondido.
Construction was ready to start on the new home, and all the family met at the property on Lilac Road to see just how to situate the building before leveling began. As usual, I wanted lots of sun, and canted the house to trap the winter southern light and warmth. I found two darling men for the job … Bill Bush and Tom Weist. They agreed to build the house from the ground up, and they did. These two men dug the foundations, built the house, and put on the roof. By the time it was finished we had become great friends. They loved tiny Jenny, and made a deal with the boys to lessen the cost if they cleaned the site every day after work had finished. The kids were glad to help. Nails, lumber, sawdust all got organized, and we ended up with a great stack of firewood for our cast-iron stove fireplace.
I had designed the house after falling in love with some buildings I had seen at Sea Ranch in Northern California. Half the roof angled high, allowing windows to catch the afternoon light, and made room inside for a sleeping loft. Years later, my Monterey house which I also designed reflected the same pattern. We all loved that house. Each of us had our own, if small, bedroom. The boys were so different as youngsters. Greg was really the man of the house, tidy and organized, and doing a lot of the work to help me as much as he could. Gary worked too, but was the more normal "pig pen" type, with a bedroom in chaos most of the time. He was later to become the most tidy person I've ever known. I don't know if Joy, his first love, influenced him … or if it was just getting away from home, and on his own.
Beginning in Belmont Shore, music was always a big part of our lives. The record player was kept busy with music from Herb Alpert to Pete Seeger, and a large basket of rhythm instruments was always handy with shakers, drums, sticks, bells, and whistles to play along with the music. Greg took a liking to flamenco music, and would put on his cowboy boots and dance along with Jose Greco. He became Jose Grego.
Jenny was so totally different from the boys. She loved animals, enjoyed 4H with her pals, and was a great artist even at an early age. She had a defiant streak … and we butted heads often. I had never experienced that with either Greg or Gary, and it threw me. Luckily our love for animals bonded us. We always had a couple of cats, and a dog. Peg Wheat had given me one of her German Shepherds … Teddy … whom she had to get rid of in Fallon, where Teddy had begun to prey on neighbors" sheep. I took her to Bonsall and had her for years. My love of Shepherds began with her. When she died there was a string of different pooches … Jack, Moose, and Sam … along with a huge assortment of cats, but nothing took the place of Teddy.
Our new home brought with it lots of chores, mostly which we did on weekends. Weeds to whip, gardens and trees to water and care for. We planted a small family orchard with apricots, plums, persimmons, and began from seed the Indian peach trees from some seeds given me years earlier by Maya's mom. They sprouted and grew fast, giving us peaches after a couple of years. I thought when she told me "Indian," it meant from India … but found out much later that these seeds had come from Native American peach orchards. They were not an "in hand" peach, boasting a deep red flesh and tough skin, but they made delicious cobblers and pie. I always kept some seeds from each crop to give away, saving some for future gardens I might have, as they never had to be grafted in order to bear fruit.
The years at the ranch, filled with teaching and gardening, were also wonderful times with the kids. We joined the Sierra Club, and took advantage of the weekend outings they offered. I was dating Richard Brown then, who had two boys also, Kevin and Doug. Richard was a fellow teacher at the high school, and we joined up for several desert camp-outs. He was great to be with, knowing all the names of the plants we saw. Being on a tight budget, the only tents we had were tube tents. Tube tents work just fine, and are so easy to put up, but if a wind comes up during the night, they flap like the devil and make such a racket it's impossible to sleep. I actually got used to sleeping on the ground, with a lightweight pad of ensolite under me. One trip was to Jacumba, in southern San Diego County. This was a rock-climbing workshop, and the kids loved it. We learned how to "chimney climb," rappel, and some other antics I can't remember, except that it it was such fun. Another trip involved learning how to use an ice ax … so we climbed 3000 ft. from the parking lot to where the snow was, practiced with axes, then had to hike back down as the sun was setting. My legs were so tired they were shaking all the way back down the mountain.
Cousin Joan came from Oregon for a visit, and went with me on a day I was singing for Jenny's class at Bonsall elementary school. She had become a sound engineer, making records for women just starting their careers, like Cris Williamson. When Joan saw the effect of the music on the kids and how much fun we had, she offered to bring her equipment down to record some of the songs with me and the kids. Those records turned out nicely … and became some of my first recordings. I think Joan helped me with about four albums altogether. By that time I had graduated from the old pear-shaped guitar to a nice nylon string Martin I got from a pawn shop. I was always struck with the amount of equipment, and how heavy and large it was, that Joan had to bring, but she didn't seem to mind. I owe her a lot for that. Joan also did the sound for "Virgo Rising," the first feminist recording.
Other music we as a family were enjoying was Bluegrass. I don't think Greg was as interested, but Gary, Jenny, and I went to as many festivals, both local and distant, as we could. We met the Duncan family, whose son Stuart was already an emerging fiddle player as a kid. I backed him up at a few festivals on my guitar, and we became good friends. When he was ready for a better fiddle, they sold me his old one … and it was way too good for me, as I never really learned to play it well. He went on to be the #1 fiddle player in the country, and just recently made a CD with Yo Yo Ma. What a guy!
I was loving my teaching at Orange Glen. We had a great cadre of colleagues, Alice Byrne, Richard Brown, (who eventually married), Stan Alstrum, Nancy Hogan, Howard Savage, Dave Mikow, Pat Portis, amongst many others. It became a tradition on Friday afternoons to meet at El Arco, a Mexican restaurant for a beer. These were special times for me, since once I got back home I was pretty much there for the weekend.
One day I went to Palomar College to watch a casting demonstration, led by the sculpture instructor, Russell Baldwin. It was fascinating to me, even though I never considered sculpture as anything I wanted to do. Afterward, Russ gave me a tour of his department, and I really liked his work. He must have liked what he saw too, since he pursued me from that day on. I enjoyed his sense of humor, his energy, and his lovemaking … and he finally got me to say "I do." We were married at the Lilac Road house, with Bill Curtis doing the honors. The Curtis family were great folks who immediately included us in their lives, with wonderful dinners that Bill and Margaret would prepare. Bill was my dentist, and was gay, but stuck with the family for years, eventually leaving Margaret and the family for his lover. Before I had met Russell, we had such good times with them, not only at their house, but camping in Borrego Springs and other outings. Being very art-aware, they hit it off with Russell too, and we spent a lot of time together. Russ, just out of another marriage, had two kids … Sarah and Mark. Once in a while we'd do a kids" day, with his and mine, which I always enjoyed. He was a great gardener, and worked side by side with me on the Lilac garden. The boys were older, and working a lot at my brother's orchard, picking avocados, lemons, and generally helping out. They worked for peanuts, but were given lunch, provided they drink 8 glasses of water first!! My brother Dick, who was now called E.R., was a tightwad.
Unfortunately, my marriage to Russell was short lived. He and Jenny fought endlessly, over minute issues that drove me crazy, Like Pete, he also saw no value in my music, or friends. And although I liked Russ's art, his approach was almost completely cerebral rather than visual, which made conversation about it difficult. One very clever piece he did was called "Art is All Over," which can be taken two ways, and I've used it several times when discussing art to others. Group dinners with his colleagues, Doug Durrant and Harry Bliss were full of ideas that seemed stretched and phony to me. Like the gallery show with 3 huge trunks of trees, lying on their sides, as art … which they all thought was magnificent. I became totally turned off by the elite nonsense between Russ and his friends, and more disturbed by the silly arguments he had with Jenny. A year into the marriage, I was driving home from Washoe Pines, with Marty and Jenny. We pulled over at Independence, on Hwy 395, for a picnic out on the desert, and came across a wonderful dumpsite of old rusty cans and stuff. I began, as usual, picking up scraps of things I thought were beautiful, and as I wandered across, I realized that this was where my heart was, with the earth, the history of real people. I declared my Independence at that moment, and went home to tell Russell that we were through.
Shortly after beginning my teaching at Orange Glen, Nancy Hogan and I became close friends. One summer she hatched the idea of going to Mexico to study art for 6 weeks through a program at Arizona State. The boys were able to stay by themselves at the ranch, taking care of the place, and I think, but am not sure, that Jenny went to Nevada and stayed with Maya. Nancy and I stayed with a family in Guadalajara. They were sweet people of German descent, with blond hair and blue eyes. The housemaid, Chencha, was a cute little old woman who did the cooking, taught us about Merienda, and began every sentence with "Pues …" The first night after dinner the hostess asked us if we wanted more food. I replied, "No gracias, estoy lleno." She grinned back at me, shaking her head … 'No, Nancy, the pitcher is lleno … but you esta satisfecha." A lesson I never forgot. We had a great time during that stay, studying painting and taking field trips to Guanajuato, Lake Chapala, San Miguel, and Manzanillo Beach. At the end of the session, Nancy went on home, and I stayed a few more days, meeting Richard Brown in Mexico City. We took a bus trip not far from town to an ancient pyramid … Tikal (?).
I had bought two mangoes, my first, to eat at the top of the pyramid. It felt so good to sit, after climbing the steep, narrow stairs. I thought it would be so romantic to have our mangoes from the top of the pyramid. We ate them, and headed back down. The next day, my lips began to swell … and I looked like a white tribal member, minus the beads. Turns out I'm allergic … big time … to mangoes. Little did I realize that there was a bigger mango story later on.
Washoe Pines was the continuing delight of our summers. Back packing trips, horses to ride, evenings by the campfire singing or hearing stories. One summer Bob Laxalt was our evening guest. He had written several books about his Basque family, and the one he talked about that night was "Sweet Promised Land," which told stories of his dad who was a sheepherder in the Sierra Nevada. He told how he and his brothers would go searching for his dad with provisions every few weeks. They knew approximately where he might be, and to pinpoint the location, they would give a gigantic shout … like a gunshot, which would echo up the mountainside, through the pines. He demonstrated it for us campers, and we jumped out of our seats, it was so loud. Bob was an interesting man and wonderful writer.
Another summer Dick Miller hosted an International Environmental Conference. We had people from Lesotho, Senegal, Chile, Holland, and many other countries. An man from Argentina, Antonio Marcolin, came with experience of having worked in Bariloche, one of their National Parks. Like the Mexican family I had stayed with, Tony was from Northern Italy, blue-eyed, and blond. I was immediately charmed, and we fell in love almost at first sight. I was a single mom with three kids … which didn't phase Tony. We spent a lot of time together that summer when we weren't working. The last night of camp we took a long walk down across the pasture, and made love under a huge Jeffrey pine. I had taken off my glasses in the process … and then couldn't find them when it was time to get back. A little embarrassing … yes … having to try to explain to everyone the next day how I lost my glasses … besides the worry about driving back to Southern California without them. Josette Gourley came to the rescue, lending me a pair of hers, just close enough in prescription so that I felt safe on the road. But I sure had a headache by the time we got home. Tony came to see us several times at the ranch, and we talked of marriage. The kids adored him, and so did I. He was a good cook, too, and one night we went to the beach and collected mussels, which he cooked in a delicious tomato sauce with lots of garlic. His favorite story on arriving in the U.S. was that of going to a restaurant for dinner. The waitress asked him "soup or salad?" … He said yes, please. She repeated the question several times, getting same answer. Finally he realized she was offering two different items … not a Super Salad. At the ranch, he would yank a radish out of the ground, brush it off, and eat it. When he ate grapefruit, not a speck of flesh was left inside the skin when he was finished. The final discussion of marriage was brought up with Dick Miller, and he said "Absolutely not!!"
There was currently a big flap about the "brain drain" at that time, and Miller didn't want to be a contributor. Having brought Tony to this country, he felt morally obligated to make sure he went back, taking the information from the conference with him. As much as I loved him, I couldn't pack up my kids and my life, leaving the ranch, and move to Argentina. We parted with much sadness … and shared many lovely letters for years, until Tony met someone in Argentina he could love, and got married.
In the early 70s, Greg went off to Washington, to live with Pete and attend the University of Washington at Seattle, and was soon followed by Gary going off to Ferndale to attend College of the Redwoods. Without them the Lilac Road ranch was too much for me to take care of, so I sold it and moved to San Marcos to an ordinary little house on Fulton Road. By that time, Jen was in junior high, where she met her favorite teacher of all time, Peggy Petitmermet. She did some amazing projects those years … and we became close friends with Peggy and her hubby, Robert. They had a daughter, Giverney, and built a gorgeous home in San Marcos with a dream garden they designed reflecting cactus of Mexico. Jenny and I spent many sweet times there, enjoying their hospitality and warmth.
I missed the ranch, but not the work. Deciding to make this humdrum little house more exciting, I asked my good friends Marcia Durrant and Carol Elliot to help me with a painting adventure. I had always loved the way Cezanne painted houses in his work, I dreamed up the idea of painting this house the way it would have looked in his eyes. They volunteered to come every weekend and work on the project with me, as they were both artists as well. It took almost a year to complete the work, as we painted shadows under eaves, accents around doors, highlights here and there, finishing it off with Marcia's trademark of spray painting over leaves in the garden areas. We had sealed the old stucco with Thoroseal to begin as a base. We had so much fun, sort of making up ideas as we went along. Even Greg helped a lot with his tall lean body, wire brushing and painting the eves. The last thing we added was our signature wall, facing west. That afternoon Marcia hauled her big ladder over for us to stand on, with the late setting sun casting our shadows on the wall. We quickly painted the shape of the shadow, and the next person took their turn. We were all there, larger than life, on the wall … Jen, Greg, Marcia, Carol, and me. We held a huge open house when it was all finished, and realized how long it had taken!
Another adventure at the Fulton Rd. house was when Jenny got a pony. She had wanted one for a long time, so I had help building a small corral in the back yard. We searched around for a likely suspect, and found a Shetland mare nearby for sale. The owner assured us she was trained and gentle, and we took her home. Taffy actually was stubborn and mean, and dumped poor Jen a few times, making her lose interest right away. Luckily we were able to sell her, and Jen didn't mention having a horse again. She had had such fun riding Little Joe at Washoe Pines we were both sorry Taffy didn't work out. Luckily she was enjoying school so much with her best friend Pam, and the great art classes with Peggy. Other good friends we had were the Holcombs, Doyle and Tutu. Doyle had been our postman at the ranch, and they had invited us to become part of their large friendly family. Gary had gotten a job at the PO with Doyle's help, which came in very handy towards college money. There were lots of beach parties and family get-togethers with the Holcombs, which were always filled with lots of love and good cheer.
While living at this newly painted house, Jen and I were by ourselves. The boys were both up and out, finding their own lives in school or work. I was enjoying teaching so much at Orange Glen, loving the students and always being surprised at what great work they turned out. It came to my attention that there were a lot of kids … Freshmen, mainly, that were coming to school for only a few hours, getting stoned, and disappearing for the rest of the day. I decided to go to San Diego State for a Master's Degree in Education. A great teacher there, Chip Fishburn, became my mentor, and I ended up designing a "School Within a School" for my thesis. It outlined how we could reach these kids as freshmen, give them three hours of teaching in the morning, after which they would be excused. I took the proposal to the granting officer at the Escondido School District, and he liked the idea. Helping me do a presentation, I was awarded $10,000 of the school budget to put it together. I chose a great team … Candy Serry for Math, and Stan Dean for English. I got to teach the Art class. We had thirty freshmen kids slated for failure and already with a bad attendance record. I named the project "Super School," and we were given the first three hours of the morning to work out our schedule. The kids went from Stan, to me, then to Candy. They actually stuck with the schedule, and we tailored the classes just for them. I had kids that I probably wouldn't have had otherwise, and I loved them. We had music going while we worked, and I devised art projects that really interested them. We took field trips, and had guest speakers like Sam Hinton (who played his Little Lady harmonica tucked in on one side of his mouth, singing out of the other, all the while accompanying himself on the guitar. Curt Bouterse, my boyfriend at the time, also came with a variety of instruments. All in all, the program was a big success, and lasted for 3 years, until Jenny got sick, and I had a huge change in my life … but not close to what Jenny faced.
Luckily, not knowing what was coming, we had taken an amazing trip the summer before to Appalachia. It turned out that many of the counselors at Washoe Pines knew of interesting places to visit in the South, examining social as well as environmental issues. We planned to combine that with as many folk festivals as we could along the way. It was 1974, the year Maya ran for the U.S. Senate. Dick had decided that they should have an "open marriage," with Maya gone so much of the time, and began affairs with some of the women they both knew in the area. It broke Maya's heart, and Kit's as well. We still went ahead with our trip plans, since Kit, Gary, Mary Saul and I were the "grownups" and Jenny, Judy Scheuer, Don Sam, Zoe Carter, and Susan Marks were the "campers." I had an old Datsun wagon with a rack on top, and Maya lent us a huge old Plymouth wagon, also with a rack. Each camper was to bring a journal, enough clothes, and a musical instrument if they had one. I furnished pup tents, sleeping bags, and a Coleman stove. We ended up with a guitar, a banjo, a fiddle, and a tin whistle, which Mary played incessantly while we drove, making us all crazy. But what a delightful trip. We chugged up the Oregon coast to pick up Susan, Gary in Seattle, then headed East to get Don Sam, Kit and the Plymouth in Nevada. From there we gathered Judy and Zoe and headed across the country. Our goals were to observe strip mining and clear cut logging, talk to people at the Highlander Center, and other organizations trying to save the land and its people. To sweeten the days, we had schedules for all the folk festivals in our path. We all agreed to choose a double name, like southerners have, so we became Gary Boy, Don Bob, Kit Girl, Judy Mae, Jenny June, and Nancy Jo. Our first stop was in Georgia, where we visited Foxfire, with Elliot Wiggington. He gave us a tour of the old log cabins, introduced us to Millard, an sweet old guy who had helped build the cabins, caulking them with red clay. They were beautiful. The festivals were full of fine fiddlers and banjo pickers. We were in heaven. Along the way we encountered "frog strangler" rainstorms, which soaked us to the skin a couple of nights. Welcoming churchyards found us the next morning drying out all our gear. The kids never complained, at least not to me. Every night someone different was in charge of dinner. We would stop to shop, and they could make whatever they wanted. After dinner, hopefully around a small fire, we read Southern writers … Flannery O'Conner and Faulkner, played music, and wrote in our journals. Gary, heartsick over being away from Joy, the first big love of his life, wrote long letters to her every night. I think I was lucky he even agreed to come along. For five weeks we traveled, taking in everything we could find, from museums to universities, craft schools to an atomic center.
Stopping at cafes for a soda, we noticed all the napkins, cups, and other paraphernalia were all printed to celebrate the bicentennial. They were geared for the big 1976 blowout of the upcoming year. We began picking up the items, matchbox covers, posters, napkins, stickers … whatever we could find. It became a requirement … no … a passion … to collect the entire set of 7-Up cans that had been produced just for the occasion. And we managed to get one can for each state, with the bonus that if you stacked them just right, in a pyramid, they created a picture of Uncle Sam in his famous pose of "Uncle Sam Wants You!" We ended up with 2 large trash bags of stuff, which began to make packing the cars a challenge. Not only that, but on the long course of our travels, Gary and I each bought an Appalachian rocker, which had to be tied to the top of the cars. They were well padded with some wonderful old patchwork quilts I found at a jumble sale. The trip ended in DC, where Zoe lived. After a trip to the Guggenheim, her folks kindly welcomed us all in for dinner, a much needed bath, and a real bed with a roof for the night! But I'll never forget all the wonderful folks we met along the way … the "hollers" and the "hog's backs," all the kudzu swallowing everything in its path, and Southern hospitality and music. At the end of the trip I asked each member to give me three or more of their favorite writings from their journals. Drawings too. The material I got was so delightful and insightful that I make a small booklet containing their writing. Bob Shorey printed copies so that each of us has one. I reread mine occasionally and am always struck with their perceptions of each day's adventures.
Wonderful as that trip was, the year that followed was terrible. Jen had come from school complaining that all the girls in P.E. were getting "hair" and she had none. It was embarrassing. I told her that all girls develop at different rates, and she would catch up. Discussing this with a good friend, Shelley Denton, who was a nurse, I was told to get it checked right away, as it could be a problem in the pituitary gland. After testing, Jen was diagnosed with a brain tumor … in the pituitary, the master gland of the body. Dr. Assam, a brain specialist, said the tumor had eaten most of the gland already, and was headed for the optic nerves. At least it was benign, but he recommended surgery right away. An aside: Maya had planned on taking Jen and I to Greece that summer, and I asked the doctor if we should cancel the trip. "Oh no," sez he … "she'll be just fine by then." Needless to say, we never took the trip. Jen went into surgery, which lasted 16 hours. She was just 14 years old, and was so brave. I couldn't believe how this could be happening. Pete was out of the picture, living in New Mexico with a new wife and a glamorous lifestyle, having married the woman who owned an amazing store there, called "Doodlet's." He came over briefly just before Jen went into surgery, and never visited her during the long months of recovery. Gary, bless his heart, took a semester off from his studies in college to come home and help. It was a godsend. Judy Milburn, a colleague, lent us the use of a small house trailer in San Diego where we could stay on weekends and not have to drive to and from San Marcos every day. Those long days in the hospital challenged Gary and I like nothing else ever had. We tried anything and everything to get Jen to respond to our voices or touch when she came out of the coma. Finally, putting pencil in her hand, even though her eyes were closed, she would make drawings or marks when we asked her something. Only this gave us hope, since she didn't speak for a long time. She spent weeks in ICU at St. Mary's in San Diego, and couple of months in rehab, since she was now hemiplegic and had no use of her left side, or short-term memory. The procedure had been done on the right side of the brain so that she would still be able to use her right hand, and have long-term memory and speech.
As time went on, Gary and I drove to San Diego every other afternoon to see her, having reduced my teaching schedule to mornings only. Pete's Mom came a couple times to the hospital in San Diego, which must have been a daunting trip, all the way from Long Beach, for a woman her age. When Jenny was finally able to come home, a friend told me of a Danish girl they knew who wanted to come to the states for a year and work, and see the country. We corresponded, and gained a wonderful new companion, Bibi Sorensen. Bibi was like an angel sent to us. Her good cheer and sense of humor were priceless. And since San Diego Co. had no programs for the disabled, having someone like Bibi to be with Jen made such a difference. I was just finishing my third year of "Super School," which I loved, but finally had to give up to take care of Jenny. My folks were of no use, being in Christian Science, they were basically in denial. And Gary finally had to get back to school. Again, Maya came to the rescue with a brilliant idea.
Why not move to Berkeley, where the whole town is focused on the disabled community? Where we could get some help, find some programs, and start a new life. CIL, the Center for Independent Living had all kinds of information on programs, helpers, respite, etc. Why not move, indeed! Maya assigned Kit and her sweetie, Jack Van Valkenburg to find an appropriate house. Kit and Jack were living in San Francisco, and did a great job of finding us a wonderful home on Milvia Street in Berkeley. Maya bought the house, which I paid for after selling the house in San Marcos. It was a classic old Berkeley home, with 5 bedrooms, 2 baths, and a lovely sunroom upstairs. The kitchen was small, but useful, and there was a large dining room, entry room, and living room with a large fireplace. It had a huge cemented in basement in which I discovered some beautiful wooden crates with Japanese writing on them. This house had probably been owned by a Japanese family who got sent to a camp in the 40's. Another clue was a huge hot tub in the lower bathroom which had been heated with gas jet burners under the house which we never used. All the extra bedrooms served as income, since I could rent them out, allowing me to stay home most of the time to care for Jenny.
I chose not to sell the Fulton Rd. place in a hurry, and instead rented it out to a young couple who seemed perfect. The woman said she loved to garden, and the man seemed pleasant. We loaded a moving van, and what didn't fit I stored above the rafters in the garage, with the renter's consent. They were precious items, including Dad's Meccano set from his childhood, his HO gauge train, Jen's Barbie and horse collection, and a few other things. I also left my beautiful old cast iron stove in the living room that I had brought down from Washoe Valley for them to use for extra warmth. Eight or nine months later the rent failed to come, and my calls remained unanswered. I called Doyle Holcomb, and asked if he would go over and check out the house. He called back to say that the house was empty. The fireplace and all the articles in the garage were gone as well. I was devastated. But as luck would have it, Doyle's kids were looking for a house, and liked the Fulton place, coming to my rescue. What a blessing that Holcomb family was for us. This allowed me to pay Maya a good chunk on the Milvia house, and the rest came in small dribbles for many years. I mourned the loss of the old stove, which had a special connection for me, having come from Nevada. It was in the same category as all the Indian blankets and baskets I bought with my Washoe Pines paychecks each summer from Husky Hunts … the wonderful store in Lake Tahoe. Fortunately I still have them. But in the long run, the move to Berkeley was more than worth the loss.
When we first moved there, somehow I met a woman in Christian Science. We became friendly for a while, maybe until she realized I wasn't interested in joining the church again. I had given up my belief in God with all the trials our lives had faced. Especially when religious friends would say to me … 'God has a reason" … or "It will all work out for the best." Seeing the C.S. church in Berkeley, designed by Bernard Maybeck, prompted this woman to take me on a visit to Maybeck's daughter, an old woman still living in what was called the "cement bag house." It was a small home Maybeck had built after a fire had burned their family home, where they could live while a new home was built. It was so unique. He planted 6x6 posts around the perimeter of the house, then drilled holes for a cable to fit through at about 2" intervals. The cables were stretched tight, looking like a sturdy cable fence. He wet bags of cement, and hung them over the cables. When they set up, the walls were complete, and he added the inside of the house. Typical of his architecture, there was a huge stone and cement fireplace in the living room, even though it was basically a very small home. The day we arrived for the visit, the woman was outside picking up twigs the last windstorm had left in the yard, tying them up in bundles with twine. "You know what I'm doing?" she asked. "I'm making faggots! … You know what faggots are, don't you?" I didn't know her meaning of the word, but her actions were a good explanation. She showed us around the house, served us a cup of tea, and we left. She had a brusque manner that made me wonder what kind of friendship these two women had.
Another famous architect whose work I got to admire was Julia Morgan, who designed a small darling theatre in Berkeley, the Hearst Castle, and some buildings at Asilomar, in Pacific Grove. Both artists had such a great feeling for material and how to use it. Maybeck, with cement and wood, Morgan with wood and stone at Asilomar, and the Castle.
I found Berkeley to be a haven of help for Jen. CIL helped us connect with folks willing to come stay with Jen for a few hours, giving me some respite care. The most exciting connection was with an art center in Oakland for the disabled called Creative Growth. It was started by Elias and Florence Katz, who were also helpful in getting Jenny her SSI, making her eligible for CG. They even had a bus pick-up service which made it possible for her to go everyday and be an artist, which she adored. Bazil Dean taught there, and became Jen's favorite teacher, and a long time friend for us. With Jenny at school, I was able to get some part time jobs, and did gardening for several folks weekly. I also introduced myself to the man in charge of the music programs in the elementary schools, which got me a job teaching music in the classrooms.
Bibi made the move with us, and loved Berkeley. She would go for long walks, having her cigarette, and talk to everybody. She met and fell in love with an older Black man in the process. Finally her visa was up and she had to leave … probably lucky for all of us, sidetracking any serious results of her infatuation. We missed her terribly, and only visits from Gary could cheer us up. I can still hear Jenny's laughter bubbling as she and Gary would walk together. Bibi's family came to visit while she was living with us and they were just as charming as she. We promised to visit them in Denmark some day.
Jenny and I would take day trips to the coastal beaches, and found some favorites where the sand was actually tiny worn pebbles which she could sit on comfortably for hours and pick out her favorites. Other days we would go to Alameda beach and walk on the sand for exercise. Berkeley gave us so much … the Brick Hut, just a few blocks away where music and good breakfasts were served by a batch of cheerful lesbian women. Mary Watkins was probably the most famous. Strolling on Telegraph Ave, with all the vendor's stalls introduced us to Mac MacDonald, Country Joe's dad. He and Jen loved each other, and once a week he came by of an afternoon and played games and visited with Jen while I ran errands. I still have his cute book: "An Old Guy Who Feels Good." When Bibi left, I got another helper … a spacey but sweet young woman who liked to be called Janet Planet, and traded time with Jenny for rent. She taught me a lot about cooking with tofu, and vegetarian fare. Another room was rented by Dave Singleton who was with us a long time. A dear man, totally passionate about the Native Americans in No. CA … Covelo, and Long Valley. It was such a great house. My bedroom was upstairs, with lots of windows which let in the sun all day long. We made a cozy nest for Jen downstairs off the living room and I installed a call system which allowed her to get in touch with me should she need help during the night.
After a year or so of singing in the classrooms, I got hired by the California Arts Council to do just that … in Berkeley and Oakland. It wasn't much pay, but it helped, and the 6 years I worked for them included a weekly gig at Oakland's Children's Hospital. I loved working there, and would go in to individual rooms to sing to extremely sick kids … and with groups out in the playroom. I learned a lot about working with different communities and situations. Classrooms were fun, too, but exhausting, as I had to haul my guitar and other instruments from class to class, and plan different music suitable for K-6 grades. Years later I did the same thing for the Monterey Arts Council … working in Castroville, Elkhorn, and Prunedale schools, and even going as far as Soledad through the county libraries.
I also began recording in earnest … now wanting to get more of the multicultural music I was learning onto tape. The medium was now cassettes. LPs were a thing of the past. I met Mike Cogan of Bay Records in Oakland, and worked with Bob Hobbs amazing talents adding sound effects and rhythm. Many of my pals from La Pena, like Lichi Fuentes, Jackie Rago and others were more than generous with their time and talents.
A huge project was the "We're Talkin' Earthquake" video, with Dulce Arguelles technical help, coordinating the kids" drawings with the beat of the song. This was in "89, after the huge earthquake hit the Bay Area, helping kids understand what they could do to prepare for such an event.
On Milvia Street there was a great neighborhood. Next door, Linda Lee took Jen and me under her wing almost the moment we moved in. We had many tasty dinners at her home. She could roast a chicken like no one else, and in the morning there was always that great cup of Yuban coffee, a brand I've used ever since. Linda lived with her young son Jason, her boyfriend Steve, and her pet Boa constrictor, named Crictor, of course.
On nice days Linda would sit out on her front steps, with Crictor around her neck, and let passersby pet him. She was always at ease with the snake, and it wasn't until C. bit Steve on the hand one day when feeding him, that she got rid of the snake … and Steve. Another great neighbor was Elaine Sedlack, down on the corner, and her daughter Polly. Elaine was … and is … a gardener extraordinaire. She began her business on a bicycle, as she had no truck or car. Attaching a small cart behind her bike she loaded up her tools and traveled all over Berkeley to work. This tiny little woman juggled all that and a small child, barely in kindergarten. She finally got an old beat-up Datsun pick-up, gave it a coat of green paint, making life a bit easier. Her knowledge of plants and energy paid off. She was hired by UC Berkeley Botanical Garden to be in charge of the entire Asian section. They sent her to China, where she learned the language, and collected hundreds of plants to put in the Berkeley collection. What a pleasure it was to walk with her through her section of the garden. She had such enthusiasm for each plant, and I learned a lot. At this writing neither woman is still living on Milvia. Linda has remarried … a sweet man, Dick Mallory, and has another child, Caitlin, an avid ice-skater. Elaine is living in Richmond, still gardening, with Polly having married and moved to Alaska with her two kids.
Just around the corner was a tiny live theatre … the Blake Street Hawkeyes. Jenny and I went to a performance of "Moms Mabley" … and met the star, Whoopi Goldberg. Whoopi and her partner, David Schein lived in back of the theatre in a tiny cabin, and we
became good friends. She had a small daughter, Alex, and was whetting her talent in Berkeley before going on Broadway. We had little tea parties at her cabin once in a while, and she was always so kind to Jenny. She and David also worked at Cazadero Family Music Camp one year, which was a blast. My dear friend Rosemary Richie whom I met through doing music in the schools connected me with Berkeley summer camps. First, Echo Lake, at Tahoe, then many years at Cazadero, in the redwoods near the Russian River. I was no longer working at Washoe Pines in the summers, and was free to begin a new adventure. Jenny was able to come along, which made it extra sweet. For over 20 summers I enjoyed working there, with the last three serving as the director. What a sweet gig … playing music amongst the huge redwoods, sleeping in a tent, and having all the meals provided. Terry Garthwaite of "Joy of Cooking" worked with us one year, teaching songwriting, and it's where I wrote "If You're Lucky." There was nothing more delicious than walking through camp and hearing all kinds of music floating through those old trees. Rosie always set up a tiny camp called "Kid City," where parents could drop off their kids while they took a class. Good friends from that experience include Rina Margolin, Jessica Jones, Rachztar, Kerry, who taught me slack key guitar, and many others. My grandaughter Erika came one summer, but got so homesick she didn't really enjoy it. Andrew, her older brother also came a couple of times and loved it. Just about the time I retired, Kit and her family began to come … and enjoyed it for many years. Each summer camp gave me such precious memories … WP with its pine, sage and desert beauty, and CAZ with its deep forest full of music.
On a more discordant note, CAZ was near the "Bohemian Grove," a club where all the powerful politicos of the country met very year. A lot of strange goings on accompanied their day … while mapping out power plays the world would dance to. The Manhattan Project was hatched there, along with many other plans that influence lives the world over.
Other good Bay Area friends included the Muldavins, across the street, Malvina Reynolds, around the cornier, and with whom I made a couple of albums. Sandy Diamond with her beautiful calligraphy and stories, and of course Leo Lee, whom I met while working at Creative Growth. I had been hired to do publicity and outreach, part-time. I thought about approaching all the TV and radio stations in the vicinity, telling them about C.G., and suggesting they do a story. The Public TV station cooperated, doing a small segment which Jenny spoke on. She was one of the few clients who could speak fluently. Leo Lee, the creator of Western Public Radio at Fort Mason, actually came from San Francisco to Oakland to see what C.G. was all about. He interviewed Jenny and some teachers, and did a nice story, which was broadcast. In the process, we became good friends, and although he was still married, spent a lot of time together. He lived in an amazing penthouse in San Francisco, on Post Street. His apartment had a 360 degree view of the city. He walked in his cowboy boots every day from his apartment to Ft. Mason. After his wife died, we became very close, and I ended up getting to know San Francisco very well with Leo's guidance. Our favorite restaurant, Tadich's Grill, was a good hangout when I went to the city to visit Leo. He always had the white chowder, I the red. And speaking of color, Greene's in Ft. Mason was another favorite spot to eat.
Leo had a sharp mind, and although elderly, he kept up with all that was going on. At that time the digital process was moving in, and he worked hard to get his old analog equipment changed over. He didn't want to be left behind. He ran hundreds of workshops over the years on radio production, and had been the youngest city editor of the San Francisco Chronicle at the age of 24. I chided him about his cowboy boots (he had been raised in Montello, Nevada, and I think the boots were a carry-over, lending mystique to his character). One day I took him to a sporting goods store and bought him a good pair of walking boots. He never wore the cowboy boots again, except for dress. Then, taking me to a Western clothing store, he bought me a lovely cowboy shirt, scarf, and pair of boots. We were together for many years … even after Jenny died. I loved being with him, with his wit and wisdom. He made long bus trips to my new home in Monterey, since he had no car, and loved the beach we walked on to breakfast when he was there. He would repeatedly remark … "I want to leave you with some income, that will take care of you for the rest of your life" And he did … but more of that later.
The Holcomb family stayed in our lives even though we had moved to Berkeley. They would come visit, and we went south to be with them. Jenny got so that she could fly down by herself, with the help of a stewardess, and stay with them for a week or so. The last time she went, in 1984, I called her one night to say hello and see how things were going. She spoke, but sounded very tired, and I finally said maybe she would feel better the next day, and we would talk tomorrow. Early the next morning Tutu called to say that Jenny had died. They had gone in to wake her, and found her gone. I was in shock, and called Gary, who made plans to come right away from WA. so we could fly to San Diego together. Maya and Marla were at the house visiting, and helped us get off. By the time we got to Escondido, at the Mortuary where Jenny was placed, we were not allowed to see her, since she had been dead for a couple of days. They told us it would take hours to "make her up" so we would be able to see her. I couldn't stand the thought of my darling Jenny having to go through that. So we sat by her casket and cried, thinking of the exuberant person, so young, inside that dark box. It was a sad trip home. Maya stayed with me for a week, making sure I was OK. After the first week I forced myself to go on with the music programs I had developed over the years. It may have seemed like denial, going back to work so soon, but singing in those sweet family homes with the children helped heal my sad heart.
By this time I had a substantial route of private homes, nursery schools and elementary schools where I was singing. Libraries all over the Bay Area hired me to come sing, and worked at coops all the way to Half Moon Bay. In Berkeley I went weekly to sing at family gatherings. Linda Lee, Rina Margolin, Donna Mickleson, Lee Anne Hinton, (Sam's daughter), Rosemary's school, and many others all kept me busy. I had become well connected with La Pena, a coffee-house/cafe/cultural center in Oakland, helping with evening programs, and doing sound engineering. They had wonderful music almost every night, combined with drama and comedy. I fell in love with the Chilean music, which predominated, La Pena having been founded by musicians from that country, fleeing the harsh politics there. One group formed "Grupo Raiz" and I got to know them all very well. Kit and I took guitar lessons from Rafael Manriquez and learned music of the resistance. Later I became a close friend of Lichi Fuentes, doing children's programs together. I founded "Los Amiguitos de La Pena" … a Saturday morning show for children, and made a batik banner for the entry way, which they still use. I worked evenings at concerts, which gave Jenny a chance to enjoy the programs as well. I also took lessons from Jackie Rago, a Venezuelan woman, who taught drumming, maraca and cuatro, with the lively music of her country.
The batik banner I made for Amiguitos was done in a class with Lisa Kokin, a master of batik and sculpture. About the time Gary and Lynanne were to be married, Lisa had a chance to exhibit her work in Canada. We were talking one day, and she said she didn't know how she could get her sculptures to the gallery, since she had only a small car. I had a Toyota van and thought how much fun it would be to go together. I'd take her to Canada and drop off her and the sculptures, returning to Richmond Beach to help prepare the garden for the wedding, which was to be at the kids' home. Fine. We decided to shop for groceries that we could munch on along the way, stopping only for dinner and a motel. I had tasted mangoes in Mexico and really loved the flavor, and they were on sale that week. I remembered the trouble in Mexico … eating the fruit like an apple, and thought that by peeling and cubing the fruit I could eat it by placing it into my mouth without touching my lips. We had a fun trip, picnicking along the way, jabbering like crazy up the coast, and into Canada. A day or so later, at the kids" house, weeding the garden I began to itch. At first I thought it was the grasses I was pulling, or the weeds. Pretty soon my whole body was itching, and breaking out with red bumps. I then realized that I had made a huge mistake. The swelling reached my face, and one eye went completely shut. I had promised Lynanne's mom who worked Fred Hutch Cancer center that I would come do music for the kids there. And here I was, looking like some sort of monster. Someone gave me some cortisone cream, and I put a pirate patch over the bad eye. Off I went to the Hospital. No one even asked what was wrong with me. The kids that I sang for were in such worse shape than I, I don't think it occurred to anyone to ask. It was a good lesson. The challenge now was what to do about the wedding. Here was the mother of the groom looking like … what? Luckily a lot of the swelling subsided by the big day, and I didn't shame Gary too much. But when I see a bite of mango in a salad … or anywhere … I politely say … 'No thanks." The wedding was lovely, with the huge Tuttle family, a few Wilsons and Ravens as well.
My music programs increased over the years, and because I liked driving to WA every summer to see Gary and his family, I arranged library tours all the way up the coast, singing at nearly every library in every nook and cranny along the way. In the winter I did hundreds of school assemblies and library programs in the Bay Area and Central Valley. I loved going to Stockton and Fresno. Fresno especially where I stayed with Mag Bell and Robin, and sang at their school many times. Some days were exhausting on the coastal treks, doing as many as four shows a day, with many miles to drive in between. First show at 10 am., the next at 1 pm., again at 3:30, and the last at 7pm. Each show took me a little further up the road. The only thing that made that last show possible was the energy I got from the darling kids who came to sing with me. My Toyota van had a bed in the back, but it was not that restful for camping. I developed friends along the way who were kind enough to let me crash at their homes. I especially liked Corvallis with the couple who made wonderful wooden puzzles for kids. All in all I must have done over a thousand shows.
I remained at Milvia for a while after Jenny died. We had had eight wonderful years in that house, becoming so close, enjoying each other and finding so many ways to celebrate the very different life we had right then. Without her, the house seemed cold and empty, especially with the huge old magnolia tree casting its shade over the house most of the day. I yearned for a place with more sun and light, and more gardening space. I also grew tired of all the little specialty stores with all their precious goods that people would spend all day seeking out … just the right lettuce, just the right cheese … just the right body lotion. Sun and simplicity seemed to be calling me. I like the look of Oakland with its workaday attitude, reflecting more of my own upbringing … the working class family.
Luckily, Janet and Norm of the Homemade Cafe, their great breakfast place, liked my home, and bought it, leaving me free to check out a small place I had spotted in Oakland on Maple Avenue. On a corner in the Fruitvale neighborhood, it was perfectly oriented to all day sun. There was lots of space for gardening, although there were no plants in sight. A tour of the inside interested me even more. There was a sweet old-fashioned kitchen, with the original cupboards, tiled in my favorite warm colors. Three bedrooms, 2 baths, and a dining and living room with large windows facing southwest, gathering sun most of the day. The garage was separate, off the back yard, with a darling primitive guest room above. Being on a corner lot, it had a huge backyard (no plants there, either) with exciting possibilities. The realtor explained that the previous owner had been allergic to pollens, and had poisoned the entire yard so nothing would grow. Once moved in, my desire for a garden became a labor of love. I dug in mulch, fertilizer, water, and hope. By the next year plants were responding, giving me the beginnings of my dream garden.
Don Carlon, man of all talents, came for a visit and ended up staying long enough to make some major changes. We concocted an idea of how to open the kitchen into the dining room, which had only a small swinging door, like the ones you see in restaurants separating the kitchen from the diners. He knocked out the wall, and replaced it with a lovely arch, which let so much more light into the kitchen area. Outside, he built an arbor over a small cement slab that had been there, creating a cozy picnic area. I planted grapes on the arbor for summer shade and eating. The front yard, once barren, soon became covered with purple ceonothus that cascaded, along with rosemary, over the front wall. A Peace rose adorned the metalwork leading to the front porch, with its sweet smell, while lavender, rockroses and sage filled other spots. I loved this little cottage, with all its sun and although I missed the Berkeley neighbors, they were not all that far away. And my new neighbors were welcoming and interesting as well. A natural food store was just down the street, right next to the Wing Wing Chinese Cafe, with their Pu Pu platters, which became a favorite, having been recommended by my ex-renter, Dave Singleton. There was a small bar on the corner run by a friendly Black family, with good music and where I went occasionally for a drink.
The extra bedroom became a source for a little income, and my favorite renter, Nadine Ghammache, educated me in matters Arabic, with her passionate opinions regarding Arabs vs. Israel. Another favorite was Jose Ruiz, a jolly man I met through La Pena. A multi-talented man, Jose was a fine artist, held a few part time jobs, and had a magic talent. With his travel circuit he would obtain surplus items, which he would share with someone, receiving something else, which he would then share with the next person, on and on. Such a cheerful guy … full of stories and adventures of Nicaragua, his home country. His little daughter Meche would come for visits. Her favorite song was the theme from "Coach" … and we sang it with great hilarity … duh-duh-duh-duh!!
Between Don, Nadine, Jose, and some student renters, the Maple Street house was busy and happy. I brought the large flight cage with its Goldfinches that I got for Jenny in Berkeley and it commanded space in the dining room. Six-foot dahlias graced the garden under an apricot tree, and the grape arbor was looking good. My only reason for even thinking about moving elsewhere was that with Gary married and with kids, they were not comfortable visiting me in Oakland, which had a reputation for being dangerous in some neighborhoods. Mine was border-line, and I needed to rethink my location.
Time to catch up on Greg and Gary. Being so pre-occupied with Jenny, my focus was mainly on her and trying to put our lives together. Both boys had found good, or at least interesting lives in very different ways. Greg was living for the most part in the L.A. area doing music, writing comedy for some top notch shows, like Saturday NIght Live, and others. Both he and Gary ended up with lightning-quick senses of humor, and Greg actually used his commercially. He also did lots of work with VWs, both in repairs and in writing for their magazines. Gary had gone on from U. WA. to join with some pals, raising mussels on Whidbey Island, and eventually built a darling cabin there. Delivering mussels to local restaurants he met Lynanne Gorton (Tuttle), fell in love, and got married. Lynanne, a talented artist and cheerful gal, had a young son, Andrew, who basically knew Gary as his dad. Needing a home for a family, Gary sold his cabin, moved off the Island, and got a job at Ocean Beauty, a huge fish company in Seattle. They lived in Ballard for a while, then Richmond Beach, finally settling on Vashon Is., on a beautiful piece of land with an old farm house that had been moved at one time from a different location. Over the years I visited both boys in their various and many locations, and always enjoyed seeing what and where they were. Greg had some girlfriends along the way, had a sad, unsuccessful marriage, and eventually met and married the woman of his life, Laura. At this writing they live in Apple Valley, California, with Greg busy with his new hobby, stringing tennis racquets for the pros, and writing for tennis magazines.
For me, the relocation process took my mind back to various places I had been and enjoyed, and where my kids might enjoy coming to visit. I thought about Nevada, but then, Maya was there, and we could always stay there. The memories of Baba, in her old beach house, kept re-occurring, and I began to consider the coast. I called a realtor in Carmel, giving her a price range, knowing what I could sell the Oakland house for, and a few days for her to put some places to look at together. She showed me three knock-downs in old Carmel, with no beach anywhere near. With grandchildren coming, I wanted easy beach access with no traffic. I kept shaking my head, and she finally said, "Let's go to lunch, and I'll bring my listings." During a good bite at the Fish House, she checked her book and said, "All I have left in that price range is a house near the ocean … but it's in Monterey" (!), as if that were some big black mark. Driving up the small road to the house, I could see the ocean even before we got to the house. "I'll take it," I said … "This is what I'm looking for."
The house was pleasant and well kept, with 3 bedrooms, 2 baths, a nice small backyard yearning for a small garden. Lots of sun in the front and back yards, but not much in the house, shaded by the neighbor's tall two story. The price was just right … being the same amount I felt I could get for the Oakland house. The only catch was that I needed $40,000 right away for a down payment, and to hold the offer. So, before leaving the Carmel office, I called Maya, Kit, Marty, and Helen Cohen, and asked each of them if I could borrow $10,000 to be repaid immediately on the sale of my house. Whew!! Each one said YES. I left a check for the amount with the realtor with the understanding that she would hold it until the transactions could be made. After signing some papers, I was on my way to another moving adventure. After 6 years in Oakland, I could now be the Grandma at the beach, like Baba. The house on Maple Street sold right away, but I still had time on my teaching contract with the CA Arts Council for 3 months. Since I couldn't move immediately to Monterey, I rented out the house there, and my dear friend Marty Makower and her mom Rose let me live with them for the duration. It was a sweet time, getting to know Rose better, and enjoying Marty and Joe's daughter, Cody.
The two men in my life during those Oakland days were Leo Lee and Bob Clinchard. Bob worked at Kaiser as a med tech and loved the outdoors. We met at a Sierra Club outing and had wonderful camping trips to different beaches south of San Francisco, Death Valley, and the Pinnacles. He was such a pleasure to camp with. Neat, totally prepared, and a good hiker make being his partner a pleasure on trips. Bob was tall and lean, had three grown kids I only got to know slightly, and was basically a very quiet guy. We were together for at least a year, when he asked me one day if he could move in with me. With Leo so much a part of my life, I knew it wouldn't work, and said no. The next week he blew his brains out. I'm sure it wasn't because of me. His daughter told me at the memorial that he had been in a deep depression for years. What a sad thing, and what a waste. That kind of illness must be a terrible thing to deal with.
Leo, on the other hand, was always full of conversation, loved going to good places to eat, and when I moved to Monterey, made the long trip down to spend occasional weekends. There was never any sex between us … just a great friendship. Leo's final year was a painful and difficult time. In 1994 he was diagnosed with pancreatic cancer, and his trips to Monterey stopped. Instead, I spent more and more time at his place in the City. Other friends of his and I set up a schedule for hospice care in his apartment, and I went up every week for 2 or 3 days to care for him, with my trusty little Terrier, Bubba, whom Leo loved I took special foods that might tempt him to eat, books to read to him and for me, and my guitar. This went on for several months … until the last week when the pain was so intense he wore a morphine vest, which discharged enough chemical to keep him out of pain. He loved it when we came, and always called out to Bubba, who, with his toenails clicking across the hardwood floor, would run over to see him. There were a few things he insisted that I take … things his family would not care about. Two beautiful oil table lamps, made from the old oil lamp days, an afghan he used up to the last day, a few nice little watercolors he had done years ago, and in he incredible old Hoosier cabinet I sill have in my kitchen. The most sustaining gift of all, however was the promise he had made years ago … that of making it possible for me to have some kind of income for the rest of my life. That gift came in his will … in the amount of $220,000, with which I purchased the little duplex in Pacific Grove. And although it has been a lot of work, it still sustains me, even now that I am here in Nevada. For Leo Cosmo Lee, 1917-1994, having lost touch with all his own children, and his beloved sister murdered in a parking lot in Placerville, our little hospice group were his only final contacts. I don't know what happened to his apartment on the corner of Post Street and Cosmo Alley.
Although I didn't go, I heard his memorial was huge, encompassing all the work he had done over the years, with all the lives he had touched through his workshops and travels. His final wish was that his ashes be shaken out in the Ruby Mountains, in Eastern Nevada. One very cold and snowy Spring, Carolyn, one of the hospice crew, Marty, Cody and I met in the Rubys and did the deed. With candles, the cowboy shirt I had made for him, my guitar with a song, and other small personal reminders, we huffed and scruffed up a snowy hill and scattered the ashes over a cliff. I miss Leo immensely, and think of him every time I see a pair of cowboy boots. Visiting Montello some time later, I discovered a tiny town, with a lot of small sturdy buildings made out of railroad ties … the result of a promised train center, which got re-routed to Elko.
JoAnne Garrett, who lives in Baker, Nevada, and whom I met through Maya had been fighting the water grab from the south for years. When she heard I was moving to Monterey, she suggested I look up a good friend of hers there, Virginia Fry. Virginia, another community minded woman, and a fighter, was such a gift. She knew who I should take my writing class from … (Bill Minor) … and anything else I might need. She had lived in Monterey most of her life, raised her kids there, and was still active in the local NOW chapter. Over the years, she was struck by one tragedy after another, and by the time I moved from Monterey, she had lost 3 of her 4 children. We became close friends, taking walks with her friend, Ilene Tuttle, another powerhouse politically. Through the recommendations of Bill Minor, I was able to ferret out some musicians in the area … enough to begin a monthly group we called "soup and sing." I would make a cauldron of soup, others would bring wine and bread or salad … or whatever. We began with music around 5 pm, stop for eats, then sing again until late. What wonderful fun. The group grew and included Daniel and Dixie Dixon, Taelen Thomas, Amy Krupski, Anne Downs, Bill Minor, and a few others. Such an amazing, eclectic variety of talent, with Taelen's recitations, Bill singing in Greek and Russian, and Amy with her harp.
Steve Mortensen joined the group a bit later … and everything began to change.
The new Monterey home as I said, was on the dark side, being shaded by my neighbor Eric Pickering's house. To counteract this, I added some large skylights in the kitchen and the living room, which made a huge difference. A little later I got the idea to add a solarium off the front room, which gave a swelling of light and space to that area. Raised gardens installed in the back yard yielded veggies, and a fence in front kept in the toddlers who visited. I wanted to find an old rowboat as a sandbox for the front yard, and heard about a guy in Davenport who made wooden boats. I thought maybe he might have a line on some old junker. What I found was Bill Grunwald of Aeolus Boats. Davenport is a tiny community clinging by its fingernails on the edge of the coast just north of Santa Cruz. The following is what I wrote in my journal after visiting him.
Only his hands were what I expected. The rest of him was a surprise. Why did I expect a squat, red-faced, pot bellied old man with arms like an oak? Bill Grunwald was tall, lean, with a kind face wrinkled by a lot of squinting and smiles. It's a freezing cold day and the barn where he works (which he claims is an old stagecoach barn) is huge and clammy. The big 60-gallon drum made into a stove doesn't even make a dent in the chill air, and standing right next to it doesn't help. The walls and ceilings are covered with spider webs, which are covered with sawdust. Old ships' lanterns hang everywhere. Maps, license plates, hand tools, clamps, and boat parts litter the walls. The barn is full of boats of varying sizes, all in the process of completion. They all have the Grunwald look … long, lean … sporting a beautiful Winslow Homer-like dip amidships. Bill himself is warm and friendly. He makes a cup of instant cocoa and offers some to me while we chat. He's never taken on an apprentice. Too busy with back orders … but rents out space in the barn to other builders, who can observe his craft. He told me of a guy who had one of his little rowboats for sale, which I gladly ended up with, It made a great place for the kids to play out front. Thanks Bill … great to meet you. (The "Sea Wee.")
The beach was only 2 blocks away, giving us a wonderful place to walk every day. I marveled at the changes at the beach, with each day offering different colors, tides, winds, birds, and atmosphere. This was the place my grandkids could come and spend wondrous hours playing at the ocean. Thanksgiving became a special time, with Ravens all, Don Carlon and his current love, Vic, BJ, Kenny and his family, Catherine and Keio, and sometimes Dixie and Daniel. It was around this time I discovered young Eric's story about Wuzzie George coming to Washoe Pines, and began writing "Wuzzie Comes to Camp."
The neighbors were all friendly … Eric next door was always ready to help if I needed a strong back. Jim Komoroski, who designed and built my window blinds, and Els down on the corner. Els and I had met one morning soon after I moved in. It was the annual beach clean-up day, and she was in charge of handing out trash bags and t-shirts. Finding that we had so much in common … some bad marriages, three kids, and a love of dogs, we became fast friends. She had a got tub on her upper deck, and we spent many evenings looking out at the bay, talking, soaking and laughing. The evening lights in Monterey, accompanied by the sound of the surf … it was magical.
The years in Monterey were seasoned with a wide variety of spice. Getting to know Paulette Lynch through many "First Night" performances, volunteering for "Meals on Wheels" and the Kernes Pool, falling in love with the many clients I had in those organizations. My favorites at Meals on Wheels … Fanny, Laura and Leslie … dear old women whom I was always glad to see on my route each week. My 45 mile drive each week took about 2 hours. I sometimes had as many as 22 folks to deliver meals to, but mostly it averaged around 17. It encompassed some new housing at Ft. Ord, which had closed ten years earlier, and Marina, both at the far north end of Monterey Co. On my driving days I went in an hour early and worked in the kitchen, helping chop veggies for the cook or making salads, puddings, or whatever. During the 11 years I worked in the kitchen I learned how to chop celery 5 different ways, depending on what the recipe called for. Celery by the crate. Peppers by the crate. The head cook, Barbara, a cheerful Black woman had been an Army cook before, and was not afraid of numbers. She cooked 300 hot meals every morning, most of which went out with drivers, and some for lunch drop-ins who ate at the Center every day for a couple of bucks. Solomon was her chief helper. Always with a smile, no matter how crazy things got … this man from the Philippines was indispensable. Many volunteers came every morning to help out with this giant project, and among them was Barbara Hartley, who had been there, cranking out sandwiches for 32 years. When her husband died she decided this was a good way to spend Monday mornings. Let's see … 32 years, every Monday making 300 sandwiches (with one other helper), times 52 weeks … that's nearly 50,000 sandwiches!! Her least favorite was peanut butter and jelly. I agree. Love eating them, hate making them. We celebrated our friendship every so often with a dinner on Wharf #2 with good salmon, a glass of wine, and a great view of the harbor. One special friend I made was a fellow driver … Gil Gilbreath. We shared the same route, he on Friday, me on Monday, so it was great fun to chat about the different clients. We often met for lunch after our routes, and I still correspond with Gil, as he keeps me informed or all the goings on. Both Gary and Lichi joined me on my work days while visiting Monterey.
Another volunteer gig included helping Paige Robertson on his "Rama p Jama" show, at KAZU, or local public radio station. And for a short time I worked with a batch of women who spent time keeping the old gardens in shape at the historic adobes. All fun jobs … which kept me busy.
That first house on Spray was good to me for 10 years. Then Phyllis Bristow, a friend who lived two doors down said she was going to sell her little cabin and move to an apartment. It was the house she had raised her kids in and when the grew up she began renting rooms to students at MIIS, Monterey Institute of International Studies. She was asking a very low price … the house was really a junker, and I went for it. I felt the income from room rentals would pay the mortgage, which it did. I too rented those rooms to students for three years, when I suddenly realized what a sunny place it was. No high two-story house next door, and a nice open yard out back. I kept thinking … 'I should be living over here." House plans began swimming in my head, spurred by the fact that a Tot Lot was being constructed on the south side, where another old shack had stood for years, empty. I finally drew up some plans to scale, designing the main rooms to gather the winter sun as it swings low to the southwest. Then, like in Bonsall, I took the plans to an engineer who did all the construction demands, and put the plans out to bid. I chose Maverick Builders, with Mike Norman. He came in with the low bid, but I felt he would do a good job. He lived right in the neighborhood, which I thought a plus … (I know where you live!). Mike had a good crew … my favorite being Frank "bad mouth" Cosio. A hard working kid who already knew a lot about building, and had the foulest mouth I had ever heard. The house was finished in 5 months, with me taking over hot coffee and donuts every morning to the guys. They were a nice bunch, and I grew very fond of them. Mike stayed on bid, which is almost unheard of, and the house looked great. We found some used brick and a couple of nice Mexican men who knew how to lay them, placing them in the back yard around the existing cement slabs Phyllis' kids had made, embedded with smooth beach pebbles. I brought all the old worn beach bricks from 142 Spray over to 136, making a new garden path. The collection of kids shoes took up their position in a pile at the front door along with a lot of other beach junk. The sweet old rowboat I had as a sandbox made a good windbreak by standing on it's stern end, and putting shelves inside for more beach clutter. Over the years, jars of different colored beach glass got filled, with milk of magnesia blue my favorite. I also collected hundreds of dried Bull Kelp, turning them into shakers with painted faces with the wild hair at the top. They gave "gift from the sea" a new meaning, as I gave many away to kids who had never seen such a critter.
After Bubba died, I answered an ad needing a home for a female German Shepherd. A man in Salinas, going through a divorce, had to give her up, and brought her to the house one Sunday afternoon. I loved her immediately, and again I had my favorite breed of dog. She loved playing ball, and I used one of those long atlatl-type throwing gismos, which gave her great exercise.
I loved this new house at 136 Spray, its winter sun flooding in making it warm and cozy.
But strangely enough, other than Els, who was now gone a lot of the time, and Daniel, I had no close friends. Tons of semi-close, like the music gang, the neighbors, and others, but somehow none of us connected on an intimate level. I realize they all had families, and partners, and it was probably hard for them to include a single old woman in their plans. Els and I had wonderful evenings and beach walks together, and she was always generous with helpful observations with problems I was having. But when she connected with an old friend whose wife had died, they moved in together at his place and I saw very little of her. Daniel and I, too, had long conversations when Dixie was away, and I always enjoyed the warm company and the delicious dinners I was included in.
My good friend Daniel Dixon was the son of Maynard Dixon and Dorothea Lange. And although he never took a photograph or painted a picture, he was the most eloquent of writers. He had written speeches for presidential candidates, clever ads for VW, and was just about the dearest person I knew in Monterey. His contribution to soup and sing were catchy little tunes on his ukulele, some of which he wrote himself. He just barely finished writing his book about that cheerful little instrument before he died. The sad change in our fun music group was that when Steve joined us, he and Dixie fell in love, and poor Daniel was eating it. The two took trips together for weeks at a time, leaving Daniel home alone. The story was that they were "just like brother and sister." Yeah. All I know is that the day after Daniel died Steve basically moved in with Dixie, and they were married soon after. It turned my stomach to see Daniel treated like that. He had been such a dear friend to me. And now, having to watch Dixie and Steve together was something I was only too glad to leave behind on my move to Nevada. Sadly, I hated leaving Doug and Anne Downs, and the Ginsbergs, who had become more and more like family.
Once Daniel was gone my world became way too quiet. Even the roommates I had kept to themselves with their heavy schedules and studies at MIIS. The exception was Rie Tanaka from Japan. She shared some meals with me, and kept me informed about her studies, her family and her boyfriend, Takao, who all came to visit at graduation time. But basically I ate way too many meals alone, went to movies alone, walked on the beach alone, and realized this was no way to grow old. Without any family near, and getting to see them so seldom made a dreary existence. I eagerly awaited the annual visits from Gary on my birthday, and the huge Thanksgiving get-togethers, but all the days, weeks, and months in between seemed ponderous.
Fighting the loneliness over the years, I kept myself busy with all sorts of projects … music, gardening, volunteering, and taking up photography. If I was busy, I wasn't so lonely. First, a class with Henry Gilpin, a dear old guy and wonderful artist, who got me started, then two classes with Martha Casanave. The first, Portraiture, then the real eye opener, Lensless Photography. Martha, a skillful artist and my lensless guru, got me started with pinhole cameras. I was amazed at what pictures you could get with this primitive equipment. With everyone else going digital, pinhole was totally in the opposite direction. I immersed myself in the medium, cranking out tin can cameras by the dozen, and experimenting. The Carmel Foundation had a complete old darkroom, which I was able to use, and for a while was the only person using it. Martha also was responsible for introducing me to Al and Susie Weber. I had heard of him from many people but had never met him until invited to join them at a dinner at Martha's. Just listening to the conversation that evening made me realize that here was a man who knew more about photography than anyone I had ever met. He had taught for years … both at Monterey Peninsula College, and at his own school in Victor, Colorada. I loved his honest way of talking, and his dry sense of humor. He and Susie had been married for years, had 3 kids, and lived in the Carmel Highlands. I ended up joining him on many occasions … the yearly Rendezvous in King City, and the Mission projects, which produced priceless portfolios of different California Missions. Our friendship was cemented by a dog … Lizzie, a scruffy Terrier I adopted and found I couldn't keep because of her running away on the beach, terrorizing other dogs along the way. Al needed another dog to calm one they already had … a dingbat Shepherd of some kind. Really nutsy. Lizzie fell into the equation with love, and Al fell in love with her … and I get to see them all when I visit.
I was accepted into a select group called the "Image makers" in Monterey, which had been started by the likes of Richard Garrod and other fine photographers. The meetings were always stimulating and challenging … just seeing what others were doing. Martha and I were the only ones showing pinhole work, and I always received good comments on my photos.
My hearing was also becoming more and more of a problem. I finally went to Costco and got fitted for hearing aids. But deafness is such a drag … and so isolating … something I really didn't need more of. In a crowded room you only hear noise rather that an individual voice. Suddenly everyone breaks out laughing, and you wonder what the joke was. Maddening.
Meanwhile, the members of my family were living their lives … with Dick, (now E.R.), busy running the ranch and shunning me from their family because of my friendship with Maya … a Democrat (those dangerous people). His and Nan's family, Jeff and Dobie who were now grown and with their own families. Vic, my younger brother, had gone into wheel toys … motorcycles … and off road vehicles … and won the first two Baja 1,000-mile races in a Meyer's Manx, a cute little speedster made from VW parts. The race ran through the countryside, before there were any roads. He had left his cute wife and the mother of his three sons for Betty Jean, a lively woman who was more connected with wheel toy interests, and must have been more exciting than family. Vic and BJ moved to Topaz Lake, a beautiful little community on the edge of California and Nevada. Vic stays close with his kids, and now has grandkids as well. E.R. was taken suddenly by cancer, leaving Nan to run the ranch, which she does well, as it becomes a flower farm where the avocados have been removed.
I feel so fortunate to have such fine sons. Both Greg and Gary have found happy marriages (something I failed to do), and are living interesting lives in places they want to be. I'm likewise grateful for their wives, Laura and Lynanne, who are loving, helpful women.
Greg and Laura at this writing are living in Apple Valley after a few years in Orange County Laura needed a place with less pollen, which Apple Valley seems to offer. Greg is happily playing a lot of tennis, riding his bike and having good success with his new hobby of stringing racquets. He now gets to attend big events and strings racquets for some pros. And of course … he is still writing. This time for tennis magazines. Most important for me … he's available for any help I might need on my computer. Priceless!
Gary and Lynanne have carved out a life they love on Vashon Island, in Washington. Their beautiful old farmhouse is surrounded by gorgeous flower and veggie gardens, with a hothouse they built for planting starts. Rows of large plastic barrels hold hundreds of Asian lilies, which Lynanne sells at local stores. They now have a small herd of laying hens that give them enough eggs to sell to the neighbors, and in the summer have a small roadside stand for organic veggies. In between all her other chores, Lynanne creates art in the form of Christmas stockings, decorated mirrors, and has made wonderful quilts in the past. Gary still works in Seattle at Ocean Beauty, but loves working in the garden more than anything. At this writing Erika is finishing her final year at Cornish College in Seattle, and practicing like crazy in preparation for her Senior recital, which happens in April 2012. I am so looking forward to hearing her play. Her junior recital was exciting and surprisingly well done, given its difficulty, so I can't imagine what this year's will be like. Andrew has lived in Hawaii for many years now, doing organic gardening, construction, and caretaking Ben Stiller's home on Kauai. For fun he surfs, plays guitar, and does beautiful artwork. I'm still enjoying some tasty pepper jam he sent last Christmas.
My move to Nevada in 2010 was preceded by a cruise to the Panama Canal with Vic's son Jeff, and his partner Otto. Having their companionship and feeling of being near family was the major incentive for my move. The loneliness in Monterey was too intense, and I felt it would be so much better being near Vic and BJ, Jeff and Otto, the Gilberts at Washoe Pines, and Don and Penny who live there also. The emotional connection with Nevada is very strong, and gives me the opportunity to see many old friends in the area, and those who come to visit Orchard House. I just wish I had done it much sooner. When I voiced my interest in moving to Nevada, Vic and BJ took me on tours of the area, and we looked at many places for sale … mostly in Gardnerville and Minden. Seeing the vacant lot, which stares at the Sierra Nevada with nothing in its way caught my eye … and my heart. Vic and I designed the house and Mark McKinney with his crew built it. This is my second winter here, and as I sit at my computer typing all these words, the snow is falling, hiding the view of the mountains for the moment. Good. We need the moisture badly. Last winter was all deep snow. This year, hardly any, and the ranchers are worried, having to feed extra hay. My neighborhood is full of warm and friendly folk, and I already feel very included in their lives … something that never quite happened in Monterey. I'm in the process of framing my pinholes, with the hopeful prospect of a show somewhere. It's Spring … 2012, and a few tulips are boldly showing some color in the winter-like garden.
Although Jeff and I try to make time for lunch each week, I don't see Vic and BJ as much as I would like, but they are very busy people, and include me in their plans when they can. They have fallen in love with Sadie, and take care of her occasionally when I go away. Sadie, my great rescue dog is the most soulful I've ever had, and watches me like a hawk. She loves our early morning saunter to the Mormon parking lot, and even more our long walks across the desert or on the old farm roads. She practically talks to me, and I certainly talk to her. Vic is a dear brother when it comes to needing help of any kind … so I can't ask more that that. They even carpeted their slick wooden stairs so Sadie could deal with them better, with her failing hips. I am presently involved with the local Arts Council, and worked at the Library shelving books until my body said NO.
My mind these days is heavily on Gary, who is undergoing the most frightening time of his life. Over the years of riding his bike to work each day, he had taken a couple of bad spills. Now he's dealing with how those injuries have affected his life, and is facing two back surgeries. They have just been completed, and the long road of recouping has begun. He looks a little robotic, with his oversized neck brace … but he's doing well, and we're all breathing a huge sight of relief. Soon I'll be going to see them all … a healing Garra Boy; a caretaker extreme, Lynanne; a performer, Erika; and Hawaiian transplant, Andrew. Kit is coming too, which makes it all the more special.
I'll stop here for now … and add some stories of trips I've make over the years. They are not in order, since I can't remember the dates … but they were all interesting.
North American trips
The following trips are not necessarily in order, but there's more visual information on not only the trips, but the family history stories in a collection of photo albums, which I've made over the years that might fill in some holes. I'll begin with trips on U.S. and Canadian soil … continuing on with International voyages.
Big Sur
Of all the early trips we took after meeting Maya, one of the best destinations was Big Sur, to visit Maya's dear friend Keio. Keio lived in a darling hand-hewn cottage in the Coastlands. It had been built years ago by Sam Trotter for a woman who ended up being taken care of by Maya and Keio's housemother, H. Morrisey, at Principia. HM was given the house when the woman died and HM gave the house to Keio, who took care of her as she got old. Keio then gave the house to her niece, Catherine Bengtson, who later sold the house, being the first time money had ever exchanged hands for that house. Catherine moved to Carmel Valley, and lives there still with her collection of Goldens. The visits to Big Sur over the years, from the HM reign to Catherine's, were always filled with delight and wonder. Tiny succulent gardens, blown by the sea wind, beach rock walkways, good food, card games, and warm living people always filled the atmosphere. Keio had stories galore to tell about all the friends that came and went, and I have many memories of all my kids being there at different times, and of Maya, Kit, Eric as kids, and of Kit's girls later.
Meals out included the delightful Deetjens, and of course Nepenthe, where Keio knew the whole family. The house was small and cozy, with a huge stone fireplace, two Dutch doors, one at the front, and one leading into the garden patio. Bird cages and tiny feeding dishes filled corners of the room … and precious artwork was everywhere. Gillette Burgess" drawings in a lower bathroom, Duane Wakeham's pastels and oils everywhere. I still have Keio's gingersnap "pepperkocker" recipe … the best there is.
Colorado River
An adventure we had when the kids were still young was on a jolly Colorado River rafting trip. Ron Raynsford had somewhere obtained two huge Army bridge pontoons, which could be inflated, built a deck to go over them, and gathered all the equipment we would need for a week on the river. His wife Joy had put a camping kitchen together, I pained a swirling dragon on the large tarp that was to be our roof, and off we went. It was laborious just conquering the logistics … since we had to leave a vehicle at the landing spot, then drive to the launching spot, miles away. We put in at Bullhead City, and I think we pulled out at Baker … or Needles. We had two guitars on board, and a solar oven on, which I baked sourdough bread a few times. Every evening after we set anchor, Ron would make a pitcher of lime daiquiris. Ah yes! a good way to end a hot day on the water. One night we docked, and awoke to find the water level had dropped
far below where the boat was, and ended up having to drag the heavy pontoon boat about 60 feet over the sand to water. A great trip and wonderful adventure, naming profiles we saw on the mountains lining the river, dipping out hats into the cold water along the way to pour over our hot bodies. The only mishap was one night a wind storm left Jenny with sand in one of her eyes. She wore a bandana over that eye for a day or so while it cleared, and looked like a proper pirate.
Cross-country
I've already described the Appalachian trip we made in 1974. This trip came several years later, after Jenny became ill. Thinking my pal Mag Bell was going with us, I arranged a trip across the U.S. in a rented motor home. Got to Fresno to put it all together and Mag tells me she's not going, but has a good friend who will go with us. I really needed another driver since this was a trip for Jenny, who was doing really well on her recovery from brain surgery. Dianne Ornellas was her name, and muscle was her game. She was a mechanic (good!) having worked in DEEtroit as she pronounced it. In her spare time she pumped iron on the floor of the camper as we drove along. I can't detail the trip here (check the photo books), but we did prevail, notwithstanding a few mishaps along the way. The best part, as Jenny agreed, was picking up Gary in S. St. Marie, and who was able to stay with us through Nova Scotia with its red sand beaches and wonderful old pubs where we met delightful folk and heard great music. I guess just the fact that we survived without any major mishaps was a huge plus. We saw grand country, all along the St. Lawrence River with its red-roofed farm houses, met colorful people, wrote mammoth journals, took thousand of photos, and basically had a super time.
Back East
The first trip was to Martha's Vineyard, just to experience the area. I stayed in a cozy one-room apartment at an artist's home, and took daily morning walks along a rough beach to the Black Dog Cafe … a famous hangout. While there I rented a car and checked out Cape Cod one day with its beaches. On another I drove to Mystic Seaport and heard some powerful sea songs as us tourists actually got to raise the sails on a ship moored there. I also took a long drive to New York, going through Hartford, Conn. to see Mark Twain's home. My goal was to attend the Pumpkin Festival at Pete Seeger's, see the Clearwater, and meet Pete's wife Toshi. They live in the tiny town of Beacon, upriver on the Hudson. The Clearwater, a lovely old sailing ship, had been the center for a lot of environmental work, cleaning up the river. Once a year, Pete held a big festival celebrating harvest time. The deck of the ship was filled with pumpkins, where hundreds of folks had gathered. Toshi was cooking a huge cauldron of chile or eats, and there were musicians everywhere. I got the chance to show Pete some new verses I had written for the "Java Jive," which he loved, and he agreed to let me sing it with him on the stage. What a thrill! To make the day perfect, Judy Scheuer, Joe, Sammy and Rachel came too, and we had a great picnic, making it a perfect day.
Years later, after Judy had moved to New Jersey (having lived her whole life in Manhattan) with Joe and the kids, they invited me to come stay with them for a week and attend the U.S.Open. I couldn't resist. I stayed with them in their beautiful old (new) home in Montclair, in a lovely neighborhood with good schools for the kids. We'd hop in the car each day, drive to a bus station, and with a combination of busses and the subway, make our way to Queens for the tennis. Superb fun. Judy and Joe are the perfect hosts … and the kids are great too. It was a good year to see the Open, as they were honoring Martina Navratilova for her lifetime career in the game.
Crazy Horse
One year I just got the bug to see what had been called the great grasslands of our country, and visit Crazy Horse, in South Dakota. There again … I won't mention every-here … as it's all in a photo book … but my main memories are seeing the grasslands, punctuated with amazing regularity by long, long freight trains, pulling hundreds of cars filled with coal. Not knowing the area I couldn't understand it. Then finally getting to the Black Hills, and seeing them actually black from a forest fire was another shock. Thank goodness for Crazy Horse itself and the enormous, chock-full museum of Native American art and artifacts. The largest museum of its kind, and beautifully put together. Crazy Horse himself, even so far away, was mighty impressive, as was the story of how the sculpture came to pass.
Owens Valley
Another important trip for me was probing into the Owens River Valley. I had heard the stories for years, driving up Hwy 395 so many times, seeing the haunted eyes of all the old abandoned buildings that lost their lives when the water got stolen for Los Angeles.
I was eager to see if I could find anyone who was there when it happened, or had relatives that had passed stories on. I took hundreds of photos … mostly of the buildings, some of the sad remains of the river itself, and some of the nice people I met along the way. An old woman Marge, took me in one night, fed me breakfast the next morning, (apple slices and Pecorino cheese), but had only stories about the present conflict … that of off- roaders cutting cattle fences and riding across rangeland. Even as an old woman, she drives to Trona for meetings, and Ridgecrest for groceries, shopping for the good cheese we had for breakfast at Costco. After all my searching on that trip, I was thrilled to hear a couple of years later that more water was being allowed to flow into Mono Lake and the Valley.
Camper trips
Over the years I've had a variety of campers. The first was a Chevrolet Xplorer, which I loved. It had a tiny shower in the toilet room, a big comfy bed in back, and a kitchen. I took it on many red rock trips in Utah, but as I got older began to worry about the narrow footpath, which was the hallway. I sold it to some friends and bought a cargo van, which was totally empty. A guy who furnishes such beasts put in a nice bed, stove, fridge and cupboards, and off I went for a couple more years. I painted it with a huge beach scene, reflecting Monterey. It looked lovely, and I took many camping trips in it as well … up and down the Oregon Coast, and into red rock country. But there was no toilet, and with my still advancing years, I began to look for something a little more complete. I drove everywhere … Gilroy, San Jose, looking for a small camper with a toilet, and as you might guess, driving home one day from a search, I saw just what I wanted in a used car lot a couple of blocks from my house. I plunked down some dough, and bought the van I now use for trips. Seventeen feet long, a comfy small bed, kitchen, cupboards and a loo. I even removed a tiny microwave and TV to create more cupboard space … and I love it. My dogs have always gone with me on my trips … as I feel much safer with a German Shepherd by my side. So far I've had no trouble (other than mechanical) and look forward to many more trips.
I've taken a few trips with my grandkids. The first was with Andrew, when he was only four, and hardly knew me. But he was a game little guy, and agreed to go on a coastal junket to Sequim for a few days. Although he got homesick the first night, he rallied like a trouper, and we had a great time climbing huge logs that had washed up on the beach. A few years later, Andrew and Erika (who was about 7 or 8) went on another coastal trip with me in my camper. Andrew, being the brave lad he is, even went to New Orleans with me one year during Easter Week, and we had a grand time checking out Jambalaya in different cafes, hearing wonderful street music, and visiting a local, if small, zoo. We even had a hamburger at the Hard Rock Cafe. Thanks Andrew for being such a buddy.
Elko and Baker
The Cowboy Poetry and Music Festival in Elko is an invention that many of my friends go to every year. The inventor years ago was Sarah Sweetwater, an amazing woman of many talents including sculpture. After it was well underway, it was taken from her by Hal Cannon, who now gets all the credit for its existence. We all still go, and why not, when you get to stay at Sarah's bunkhouse with 19 other people, sharing meals and talking about what shows to be sure not to miss. I've driven it a couple of times, took the train with Dixie one year, and ridden with Marla and Mark … my favorite way of going. Potlucks with over 100 folks each night, Marla's posole, Dan and Karen's sourdough pancakes in the morning, and music every evening with whoever drops in. One night I sang the Brazos River song with Cowboy Celtic. Wow. Check out the photos.
The treasure in Baker is JoAnne Garrett, woman warrior battling to protect northern Nevada water. She and her lover built such an incredible home in Baker years ago. She tells unbelievable stories about how she and Joe, with only a come-along, hauled in huge bridge timbers and boulders for the construction. One of the more gracious people I've ever known, JoAnne is a queen among women, and I hope to visit her soon.
Hawaii
Briefly mentioned earlier, BJ and I went to Hawaii to visit Andrew, now a grown man. Seeing him in his new habitat was fun, and interesting, as he had taken on a job on an organic farm. Funny to think of him doing this work now, having had no interest in the farm on Vashon as a teenager. Sound familiar? The organic produce was delicious, and Kauai beautiful. Andrew took us all around the island, where we swam and walked, enjoying the landscape of the tropics. Seeing that Island in his eyes was wonderful. From there BJ and I skipped to the Big Island, where we stayed for a couple of days, enjoying the snorkeling and local beaches where a lot of history still remained. I found a ukelele maker … and purchased one of the less expensive models. A fun trip.
Texas
Why would I go to Texas, you might ask. Actually I've always wanted to see at least part of that state, but the force that got me there was wanting to do a CD with Rich O'Brien, who lives there. No one plays a sweeter guitar, and no one has a sweeter personality. The old Badger. We spent 3 days recording, editing, and making some of my worst notes sound better with the help of Casey, the engineer extraordinaire.
I took off for a day while Rich and Arum (Casey) added extra overdubs and edited the music. I had seen on TV a story about an animal sanctuary near there, and wanted to visit. Rich lived south of Ft. Worth, and Fossil Rim was not far from there. It was as good as it looked on TV. You go in though a locked gate, pay, get a map, and drive for 2 hours over thousands of acres, where wild animals roam in a natural setting. The woman at the front gate asks what color your car is, because if it's silver, it could be a problem. Seems as though if the animals see their reflection in your car door, they might feel inclined to attack that critter. Luckily my car was dark blue, so no problem. Between that field trip and working with Rich, who did an exquisite job of accompanying me, it was a great trip. Memories … visiting Rich and Valerie's home and seeing all the history of their lives, including Val's violin studio. I hated leaving them, and Texas.
Canada
A very special trip Gary and I took one year to Victoria included their Robert Red Ford, an airboat ride from Washington to Canada, and trips in a rental car to the amazing gardens that inhabit that area. We took long walks, saw more totem poles than I could count, and ate wonderful food … our favorite being a little cafe with a cute waitress and morning sun where we went for breakfast each morning. Gary knew of a special restaurant up on the coast where we had such a grand meal … celebrating my birthday. Gary is the best person to be with … whether working, playing or traveling. I'm so lucky to have him for a son. Not to belittle Greg … it's just that we don't get together that much … but it's always great when we do.
Trips with Vic and BJ
These two good folks have been kind enough to include me on a few trips along the way. The first big trip was to Lake Powell, years ago, with his good buds Jerry and Patsy Platt, their daughter Debbie with her two sons Keela and Keenan. Vic's son Jeff was also along, with his jet ski. Vic brought his sleek little boat "Shakedown," and we were able to ply many of the narrow canyons and waterways, enjoying the brilliant colors left behind on the canyon walls. It was a lovely trip, spending the days on a rented houseboat, which we could motor to different places. Another memorable trip was to Baja CA., where I got to see all their favorite little towns that they have visited over the years. The unusual plant life along the way was astounding … trees and bushes we don't see anywhere else. Jerry Platt also came along in his car, and we shared driving times when he got tired. Special memories … getting to see the scenery that Vic saw on his 1,000 mile race years ago, and the 5 o'clock margaritas every afternoon when it became time to stop. Long drive, but great trip. Shorter trips with Vic and BJ have included Souther CA, to visit E.R. just before he died. This was especially touching for me, as E.R. hugged me as we left and I felt a close brother-sister love that I hadn't felt for years. We all went down once more just recently to see how Nan was doing, and found her in good spirits, enjoying the new bedroom she had added downstairs, and ready to take on the ranch doings on her own.
A few years back, a Carmel friend, Bobbie, asked me if I would join her and her daughter on a cruise to the Inland Passage … Alaska. I was a last minute substitute, as the woman who planned to go with them cancelled. I'd always wanted to see the Passage, and jumped at the chance. Bobbie and I shared a room, which had a porthole allowing us to peek outside. I'm not really a cruise-type person, but I loved having all my meals available, not having to unpack at any time, or move to another bed. The small towns we stopped at were fascinating to me, all clutching the edge of the waterfront. When time allowed I took long walks through the towns, a great railroad ride somewhere, and visits with some of the locals. It was also fun to watch Bobbie get all dolled up for the fancy evenings. She lent me a few items for those occasions so I wouldn't look totally unkempt! A highlight: One of the entertainers had worked with Frank Sinatra, and knew all his music. He had even learned to mimic his voice when he sang in the bar at night. Bobbie pestered him until he agreed to let me sing some songs while he backed me up on piano. He played so well … it was thrilling to work with such a pro.
#2
This cruise was so recent … I feel as though it just happened. Jeff and Otto, in their welcoming way, invited me … no insisted … that I join them on a cruise to the Panama Canal. Being another place I had always wanted to see, I accepted. A small conflict … it was just at the time my new home in Nevada would be finished. All my belongings were in POD trucks, being stored until the house was done. Gary had helped pack the last few days in Monterey, and had made sure all the boxes were labeled on all sides. I had been packing for weeks, putting boxes in the garage for the loading time when the POD bins arrived. BJ, bless her heart, agreed to guide the unloading process while I was on the cruise. When I got home, just before Thanksgiving, the new house was piled with stack after stack of boxes … but at least in the areas where they were to be unpacked. Thankfully, the cruise had been fun and interesting, with stops along the way to Costa Rica where we had a wonderful day with Richard, Jeff's uncle, seeing river crocodiles and having a tasty lunch. We visited other small villages along the way, and just seeing the scope of the Canal was wondrous. A great memory … spending a day in Cabo and seeing Jeff and Otto's unfinished home there where they hope to retire to in a few years. On the coast, it's a curved cement beauty that was unfinished when they bought it, but has such a promising design it will be gorgeous when it's done. I returned home rested and ready to attack the army of boxes and unpacking that faced me. I was so thrilled to be in my new Nevada home.
International trips
Tokyo, Japan
My earliest sojourn was to Japan. Hired by a music organization in Oakland, I was to teach music for early education workshops and sing with kids in American military schools. I stayed with an American family learning a little of the Japanese culture. Being without a car, I took a couple a side trips when I had time, and went by train to some other villages. That was a bit scary, as none of the directional signs are in English. I had to keep asking people which train to get on, and a lot of folks of course didn't speak English. Luckily many young people, eager to learn and practice English, helped me out, and I visited the town where the original carving of the 3 monkeys was made … "hear no evil, speak no evil, see no evil." I rode past vast fields of tea and rice. Beautiful country. A memory … one evening I decided to try one of the public baths. As I went in, I was instructed how to proceed … washing myself before getting into the large public tub. I did, then put my foot in the water, and almost yelped. It was so HOT. I was the only non-Japanese woman there, and I think they got quite a kick out of watching me ease myself into that water, and the look I must have had on my face. A few of the old public gardens I saw were so lovely and peaceful, and had immense hanging gongs that people could ring … and sweet little bamboo waterfalls with a gourd scoop that you could drink out of.
France
One year Maya took her friend Claudia and me to France for an entire month. It was so incredible. We began in Paris, and without a car, stayed a week in the Marais section of the city, taking busses and trains to various places we wanted to visit. The major museums, parks, and neighborhoods gave us plenty to see. Then we rented a car and set off to the north … to Giverney, and spent the day with Monet and his garden, From there to the West … to see my old friends and potters, Marie Elise and Wanda Van Duesen. I had met Wanda in Valley Center when she was potting there, and before she moved to France with her lover. They lived near the salt flats in that area where the small ice plant grows, and from, which they make a delicious pickle. By the time we all got to Le Croisic, Wanda had already moved back to the states, but Marie Elise showed us a fine time. We ate fancy crepes, slept at St. Mt. Michel, and totally enjoyed the Brittany area. The Welsh names on the signs were unpronounceable. Overall, we basically saw the entire country, traveling through statuesque castles and tailored gardens. The beach where we stayed in Toulon, allowed me to follow the tradition of topless bathing. From there to wine country in the south where we met Eric and Leslie.
There were wonderful picnics with them, and some swims along the rugged Mediterranean coast. Another stop was enjoyed with a friend of Maya's who was in the perfume business, and had an enormous rose garden for that purpose. Then, following the Rhone River northward we made our way back to Paris, through sprawling fields of mustard headed for the Dijon factory, heading for the airport and home. Maya, in her best form, had made this such a special trip. No hotel reservations up front … we challenged ourselves each night to find the friendliest looking small hotel. We were never disappointed.
Guatemala
For some reason, Maya felt I need to get away, and sent me off to Guatemala during one Christmas season. She kept the kids while I was gone, and off I went. I stayed in the City, taking field trips every day. Things I recall are sunsets over volcanos, being able to look into peoples' faces as you walk down the street and getting an honest look back, (not like in Mexico, where if you look in a man's face, it's the same as a proposition.) I was seeing the beautiful green countryside, the people who work the land, and the noisy drunken celebration of Christmas day on the Cathedral steps where folks gathered to watch the parade full of Virgins and crucifixes. The markets were my favorite venues, where astonishing fabrics, woven in vibrant color dare you not to buy.
Nicaragua #1
The first trip was one with Global Exchange … a work/study program. I lived with a darling family in Managua, in their tiny house where their young son had given me his bedroom … basically a cot in a hallway. He stayed with a relative during the night, but came home days. It was a poor neighborhood filled with tiny huts and friendly people, and each morning I walked to the center where classes were held. Spanish was taught from 9-12, then field trips were arranged for those wanting to see the city. I took a few trips, but then decided to work at a local childcare center, doing music. It was such a joy … and the kids loved the songs. I knew just enough in Spanish to get them involved. Many of the kids were refugees from the Guatemalan violence where innocent people were being killed. As in Guatemala, walking down small dirt streets, the smell of burning garbage was always present, with its sweet, acrid odor.
#2
This trip involved the East coast rather than the West … and what a difference. I went with Maya, who had been down before, Helen Cohen, and some others who were working to build a "Peace House" in Puerta Cabezas. This building was hopefully where meetings could take place that would stop the war and destabilization by the U.S. funded Contras. Don Carlon had worked on the project with a gang of carpenters from the Bay Area. We met Rafaga, head of the guerilla movement, Myrna Cunningham who was one of the peace leaders, and I think Roberto from New Mexico was there also. It was an exhilarating time, even though the Peace House eventually fell to the Contras. One characteristic of Nicaragua that surprised me … the West Coast language was all Spanish, with the people looking very Latin. On the East Coast, they spoke English and the people were all Black. The difference reflected where they had come from originally. The Blacks, who were from African English speaking colonies, while the West coast side people were from Spanish explorers. Their desires for freedom, however, were united. I'll never forget the flight from Managua to Puerta … on an old decrepit Russian cargo plane, where you enter at the tail, and hike uphill to your seat. Noisy!
Cuba
Another trip through Global Exchange was to Cuba, which we could only access through Mexico. Again, on an ancient Russian airliner, which sounded like it might fail at any moment, and spewed smoke from all the air vents as we few across the Caribbean. The Spanish classes were in the morning, and tours in the afternoon. Several of us shared a house where we could cook and sleep. The school where the language was taught was an old building, with every surface covered with tile. Walls, ceiling, and floor, making the sound bouncy and hard to hear. I think my hearing was already beginning to fail, and I finally gave up. I went sightseeing on my own, which was easy to do, and perfectly safe. Street food was available on every cornier, the predominate fare being small ham sandwiches. I loved walking around town and seeing all the old classic cars that had been left there when the U.S. got thrown out. Most of them were in terrible shape by now, since the embargo allowed no new parts to be shipped over. If you took a cab, it was usually a broken down sedan, with creaking doors and no paint, and you may or may not have a seat to set on in the back. I finally located a children's hospital where I found a lot of kids being treated for cancer, with a cure that Cuba claimed to have developed. I borrowed an old beat up guitar they had
there, and sang every day with the sick kids, again using the songs I knew in Spanish. I loved the people of Cuba, the music, and was totally awed when I saw them dance!! It resembled an energetic primitive mating dance, and you had to be in good shape to do it. Every time I went walking someone would stop to chat … asking me to tell America to stop the embargo, and let families come to visit.
Chile
My good friend from La Pena, Lichi Fuentes, introduced me to her home country. She went to Santiago usually 2 times a year to visit her family, and mainly to be with her elderly mom and dad. She invited me to join her one year, and I was glad to go. Lichi, a wonderful musician and singer, came from a musical family, and when we got to their home the reception was grand and full of music after dinner. There were lots of family get-togethers, both in Santiago and Puente Negro, where they kept a large sprawling cabin, which held the entire family. Kids, grandkids, and guests enjoyed this country place near a sweet gurgling stream. It was there I got introduced to taka-taka … the game where small metal people suspended on rods controlled by you spin around, trying to kick a ball. In Santiago, it was sobering to see the place where Victor Jara had been killed, and on some side trips I saw Pablo Neruda's beach home where the old wooden fence was inscribed with thousands of love notes. I so enjoyed meeting Lichi's folks, with her mom still cooking huge meals for the parties, and her dad working in the garden of their classic old home. As I write this, Lichi's dad has passed, and her mom is in her 90s. Biggest memory … being at the cabin one weekend, and learning "El Hombre Primitivo" around a roaring fogata. Lichi had to leave a few days before me, and I flew home alone on an unforgettable flight. We took off from Santiago and headed over the Andes for Buenos Aires. A terrible storm pitched our plane severely. One time we must have dropped hundreds of feet very suddenly, causing everyone to scream, and a stewardess to faint. I kept telling myself … "Bob Tuttle says this plane (747) can survive anything" … and I guess he was right, as we landed safely in Buenos Aires later. I told the pilot as I got off that I didn't want to get back on for the continuing flight to Florida, but he said that the worst was over and it would be smooth sailing. Thankfully, it was.
Spain, Bilbao, Italy
With Rosemary Richie agreeing to go with me, I planned a trip to Italy. She had lived there, spoke the language, and knew the spots to see. Rosie couldn't leave as soon as I could, so I left a week early to see a bit of Spain and Bilbao, meeting her later in Italy.
I especially wanted to see the Basque country, taste the food, hear the music, and see the Frank Geary Museum of Art. I was in love with his architecture, having seen some in Seattle, and wanted more. I began my stay with a few days in Madrid, with the lucky coincidence of the Royal Wedding, which was being prepared for. Every lamppost was wound with garlands, every little garden space along the roads was planted with new fresh blooms, every appendage that could support a flower basket received one. It became a flowering, fragrant city. I took long walks everywhere to enjoy it all, and especially enjoyed the city's botanical garden, full of exotic plants. The day before the wedding I was on a train north, to Bilbao, where I stayed in a large nondescript hotel.
Again, long walks took me all over the much smaller town, and I spent all day amongst the gleaming walls of the Gehry, enjoying the art. The beach was filled with soccer courts, each one with a young team of kids learning the game. Following those divine days eating the tasty Basque food and hearing some fine music came a nightmare of train connections, hotels, interrupted by a brief stop in Barcelona, which was wonderful with all the enchanting Gaudi buildings. What fun to compare his work to Gehry. It was only in Barcelona that I was accosted twice … and survived, but the spirit of the city kept me going. I finally reached the hotel in Florence where Rosie and I were to meet. And there she was!. I was never so glad to see anyone in my whole life. I was ready to relax and let her be my guide. Rosie did a superb job. We went to Venice, Morano and Burano Island for lace and glass, long walks to the perfect restaurants that she knew of, and canal boat rides. I loved the small sleek boats that plied the canals with veggies, clothing, tools, or whatever, since there are no cars in Venice. From there, a train ride to Cinque Tierre, the rugged cliff-dwelled coast of western Italy. Combining long walks with train ride respites, we traveled the entire path, ending up at a darling little beach community at the north end where we ate dinner and relaxed. We took the train all the way back … we were tired! Finally back to Florence, where we caught the flight home, and I forget the name of the tiny walled city we stopped to see along the way where Rosie's son John had danced one time.
Samoa
Virginia Fry, my first Monterey friend, heard of a Robert Louis Stevenson trip to Samoa, where he had lived. His home there was a place of distinction and interest for RLS devotees. I wasn't so much interested in him, but really wanted to see Samoa. Virginia also talked another friend, Kit Stewart, an abalone expert, into going along. I was suffering from a frozen shoulder, which I had gained from hauling too many tumbled bricks off the beach for my garden walkway. It was a large group … mostly RLS followers. Not us. We spent our time on field trips, (we rented a car), taking long drives around the Island. We talked to people in the schools, and I gave them cassettes of my music if they had a tape player. We picnicked at different beaches, and swam in the warm wonderful water. There is a picture of me somewhere trying to get into my tight one-piece swimsuit with a bad shoulder. I think one boob is hanging out. (I eventually got decent). My standout memories of the trip, besides Aggie's incredible Villa where we stayed, was hearing so much music. Almost every day there would be a group of folks, just walking down the street, singing together. I'm sure it must have been organized for something special, but I never knew what. Strong voices singing in harmony, and bodies carried along in the rhythm of the music with bare feet, strong legs, and beautiful faces. Dinner shows at night included fire-eaters, drumming on hollowed out logs, and palm tree climbing. It was here I met Kumiko Koiwa from Japan, with whom I still correspond. Most of all, it was just great fun doing all these things with Virginia and Kit … such great women. An aside benefit … Going home, our flight had a stopover in Hawaii … and we had time to hop on a bus to the interesting Polynesian Museum of History, great in itself, but also taking us through miles of pineapple farms.
FOR NOW … THERE'S BREAD AND CHEESE UPON THE SHELF, IF YOU WANT ANY MORE, YOU CAN WRITE IT YOURSELF. 2012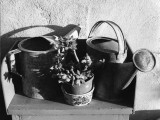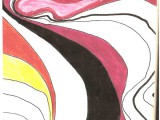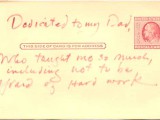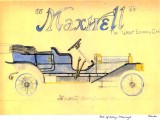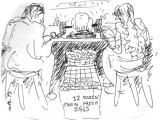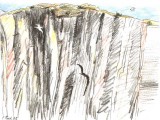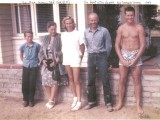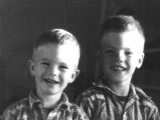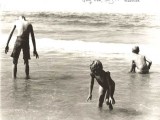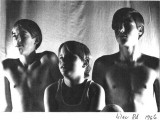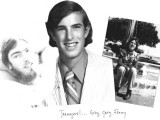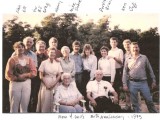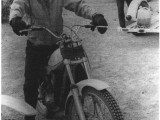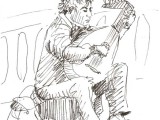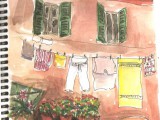 jquery lightbox sample by VisualLightBox.com v5.7m